PRE-TRAINING: GET A COPY OF THE SUCCESSFUL STROKE SURVIVOR MANUAL
This is the accompaniment to all Course Options below. We recommend that to save a huge amount of time and money, get a copy of the Successful Stroke Survivor manual & guide for stroke survivors from here

. Click on the underlined pink text to find out how. It is the first of its kind: part-book and part-manual for those who have reached the end of formal therapy.
As many as 130 different evidence-based and innovative stroke rehabilitation and exercise strategies shown in flow diagram form for stroke survivors to try themselves.. There are also many effective stroke rehab tools, techniques & 'tricks of the trade' that families, carers and friends can apply or seek out in order to drive recoveries forward. This endorsed guide shows exactly WHAT TO DO, WHY AND HOW. It is the essential & effective road map for any stroke survivor, from the newly discharged to those further down the line.
This massive resource for stroke survivors and families has hundreds of reviews written about it. Importantly, it doesn't even matter if the stroke survivor can't read well yet/at all. The diagrams have proven to be enough to show what needs to be done by the stroke survivor, family, therapist & trainer to optimise chances of excellent recoveries.
REHAB OPTION 1: HOURLY TRAINING IN YOUR AREA.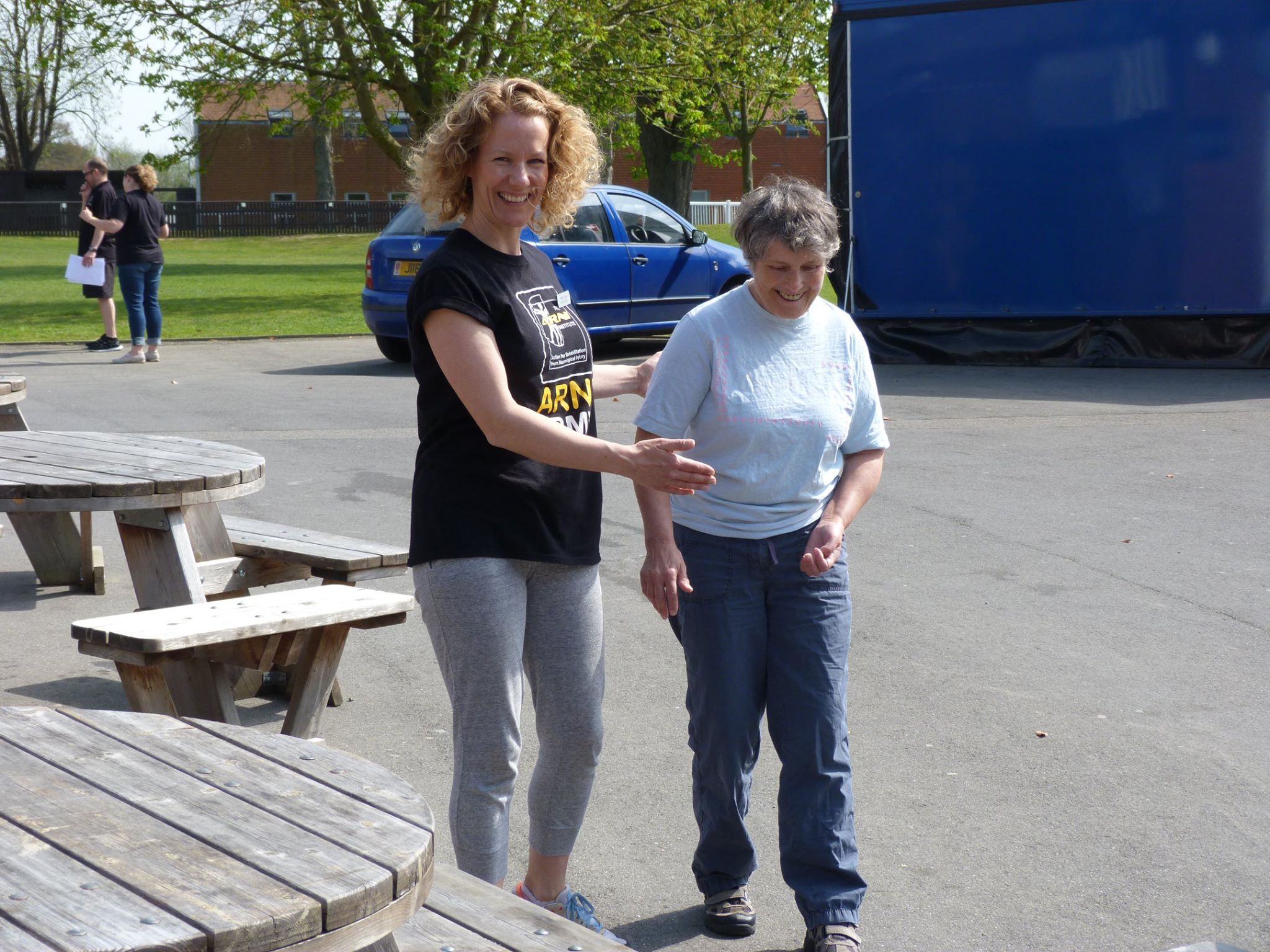 Look for the help of an Instructor near you who can help you every few days or every week, independently or in a group class. We have over 100 Instructors who have Accredited through the ARNI Qualification for you to access. Contact the Trust for matching and assessment. Instructor rate is between £45-£55 per hourly session at your house, depending on the Instructor's individual rate.
Now you know what we can offer you in terms of after-stroke support, you also need to be aware that the Institute is training Instructors all the time so if we can't help you immediately with either of these 3 Options, check back again asap. To find your nearest ARNI Trainer, wherever you live around the UK, please call 0203 053 0111. Please phone the Institute and use the stroke rehabilitation and exercise matching service provided. This way, we can provide you with the proper assessment service.
REHAB OPTION 2: ONE TO ONE PRACTICE WITH ARNI DIRECTOR.

There is the option of arranging a specialised one to one 1-day intensive re-training day with the ARNI Director, Dr Tom Balchin, himself, at the ARNI base in Lingfield, Surrey. He will teach you (and your family members if available) the tricks of the trade you need to progress. Read Sample Testimonials below.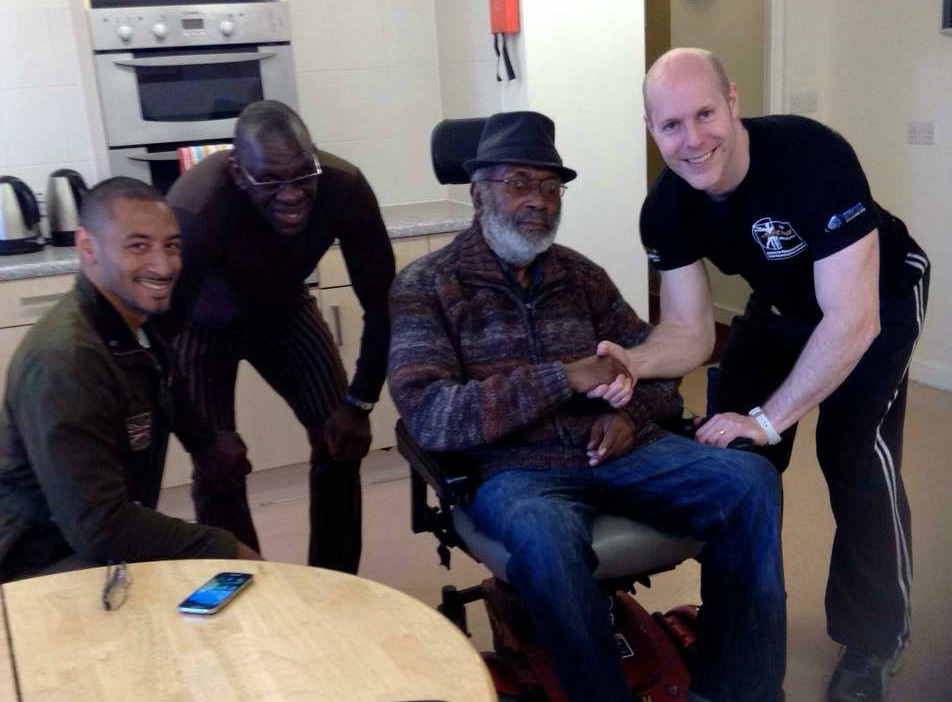 We know that some people may live in places where they simply cannot reach anyone who has been trained in ARNI techniques. If this is the case, or you want just to train intensively with the founder of the ARNI techniques based around your own diary, please email or call to arrange a one to one ONE-day course with the Director. This is done once or twice per month if possible, so call soon to book a place. This is all about massed practice – one of the most effective ways to train and learn. You will emerge having trained on the 'edges of your current ability' and with your very own bound stroke recovery training diary with suitable/appropriate exercises to do. Please read the article highlighted in link.
Day course cost is kept as low as possible – phone for details. ARNI Base is a 45 min direct train ride from Victoria station, London. If you live far from Surrey, you can spend 1 or 2 nights at the Lingfield Marriott (who also kindly host many of our courses) or at the Star Inn. Please click here to email for this service. We can then try and match you up with a trainer here, if appropriate.
REHAB OPTION 3: SPONSOR A TRAINER.

If an instructor in your area cannot be found and you cannot come to the ARNI Centre due to mobility or geographical problems, a very popular option is to sponsor a local specialist instructor through the ARNI Qualification. We find the trainer, you sponsor, and they then can start work very quickly, paying back part-cost with free lessons.
This option is very popular in the UK right now because it's an inexpensive option. The Stroke Association are currently using it in some areas to gain Instructors for groups. Lots of families and individuals are using it to get a dedicated Instructor when their therapy finishes. The Director of ARNI personally finds an experienced instructor who is on the NRPT register (and therefore able to fully insured via our collaboration with them: see Instructors page). This person may specialise in working with cardiac patients, may have experience with stroke already, may be working with rehabilitation with athletes, the elderly and/or diverse populations.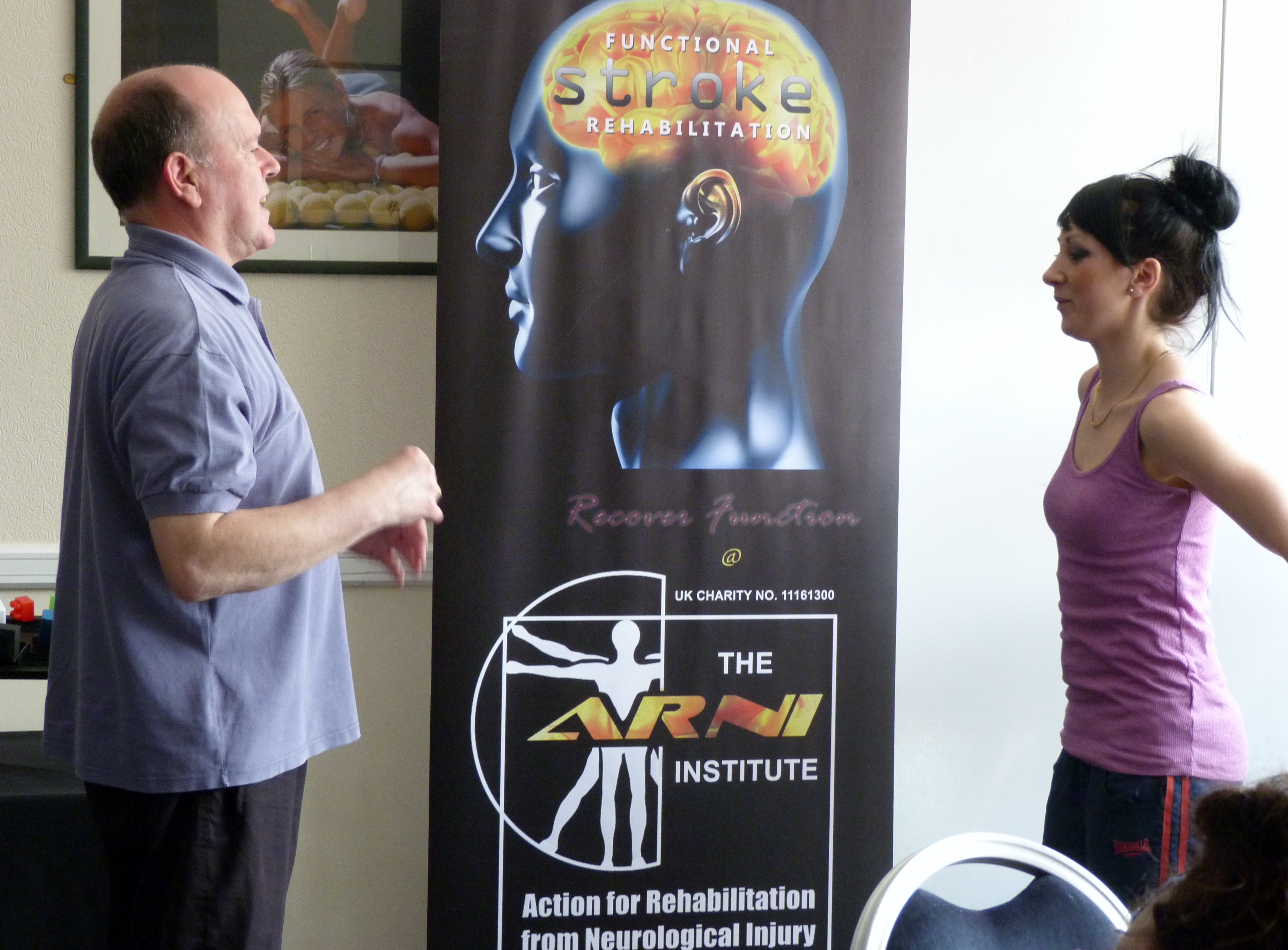 This popular Option costs £849 – 50% of which is paid back over time by your qualified Instructor via hourly sessions.
Herer's how it works. ARNI finds the most suitable Instructor who is already working in the area, The family may request to meet the Instructor and once an Instructor is agreed upon for training, the Course Fee (£849) – see Instructors Page for more details) should be paid. The Instructor can start training with the stroke survivor during the latter stages of their Qualification Course.
This option is very suitable for those survivors and families who know that physio will end soon and need further support with someone dedicated to coming to their house. Others who take this idea up have become very frustrated with receiving no help in the community and need to do something about it. Email ARNI for more details
2016 – ARNI INSTITUTE IS OFFERING A FEW FULL BURSARIES FOR THIS OPTION – THE IDEA IS TO SECURE TRAINERS IN AREAS WHERE THERE PREVIOUSLY WAS NO-ONE TO DELIVER THE ARNI APPROACH IN THE COMMUNITY. APPLY TO SUPPORT@ARNI.UK.COM