We can easily build you a page, like these here, to highlight a run or challenge you would like to do.
This is better than JustGiving as its hosted on our website itself.
There's no better way to provide authenticity for your fundraising efforts! ..
Just ask your friends to pledge or they can donate immediately, and we will update your page everyday!
THIS IS YOUR FUNDRAISING BOX! THINK UP A CHALLENGE OR RUN, BIKE RIDE, WHATEVER!
PLEASE APPLY BY EMAILING support@arni.uk.com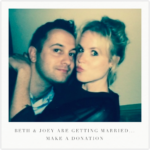 Beth & Joey are getting married
Please makea donation to ARNI!