Testimonials
Many stroke survivors have decided to thank us for successful rehabilitation by writing testimonials of the time that they were with us. These are great indications of the personalised care you will receive at ARNI. A sample of these are put up online here.These are are valuable sources of real-life experiences, and indicative of what you can expect from ARNI.
There are no miracles here, only the successes (and failures) that came about when determined people made the effort and said to themselves 'I'm not going to stay like this anymore…' . They researched the alternatives, decided that these looked or sounded ineffective, took the decision to train with us, and most importantly, STAYED ON THE 'RETRAINING TRACK' afterwards. They stayed because they grew to enjoy the process of working hard towards their own rehabilitation.
We feel that not one of these people did not recognise, by the end of the period that they chose to stay at ARNI, that the effort they put in whilst on the course translated directly towards their own progress in terms of functional improvement in movement, and increasing strength in both body and mind.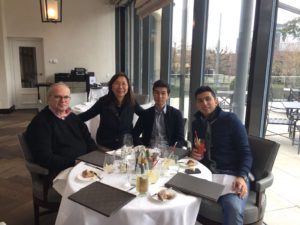 I am Swiss, 53 year old and I am a stroke survivor recently back home after a long rehab hospitalization. My stroke occurred a year ago, yielding into a left side hemiplegia. I currently have ambulatory physiotherapy therapy twice a week. Returning home a few months ago, I found it insufficient to continue on a suitable rehab trajectory. Surfing the web, I observed my issue was a pretty common problem for many stroke survivors. While I did not find programs to help me locally, I was intrigued by ARNI, a British charity helping stroke survivors better coping with the "return home" syndrome. We bought Tom's book. With my wife, who is very involved in my home rehab programs, we read the book and felt encouraged by ARNI perspectives, programs and results, described by Tom. I told her, why don't we go to England to follow a ARNI practical experience? London is a just a flight away from where we live in Switzerland.
We contacted Tom on what could be done. Tom was very responsive and showed a kind interest to design a crash course around our needs, which consisted in a day training in Lingfield and another day in London. In two days, we got a download of all the experience of senior ARNI trainers. This was terrific. We enjoyed it fully and we gathered a lot of practical and relevant techniques to bring back home. I was pushed to limits I believe I could never reach. The ARNI approach, based on repeatable tasks requiring few affordable tools, is quite easy to understand and implement in home setting. Besides the learning, the enthusiasm and the drive of the ARNI trainers, some of them stroke survivors, were contagious giving HOPE and WILL to boost my training.
We have now three months of home practice and while we can still improve on the discipline, we can see some visible first results most notably with increased mobility of fingers, leg, and arm of my "sleepy" side. Even if you are not England based, ARNI approach and techniques can easily become your routine using the videos, books and other materials or by complementing them with a trip to England. If you find rehab tough and annoying, you are not the only one (I am often ready to give up), give a try to ARNI, you will soon see tangible results.
Eric Le Royer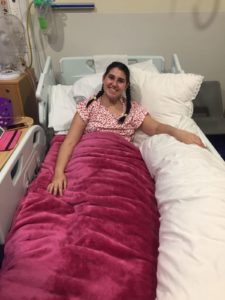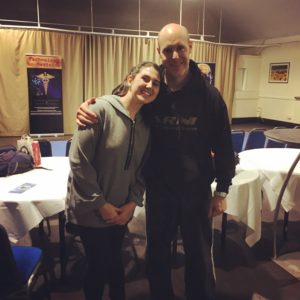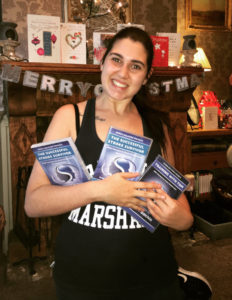 At the age of 22 I underwent surgery in August 2016 to hopefully stop the epilepsy that had plagued me most of my life. Unfortunately things didn't go to plan and I suffered a stroke, this was due to a blood vessel being clamped and cutting off the blood supply.
I lost the use of my complete left side and was in hospital for three months. Being such an outgoing person who loved swimming, socialising and even enjoyed going to work! it was quite a shock to the system having to rely on other people constantly. Luckily a family friend knew about a company run by Dr Tom Balchin called ARNI institute for stroke survivors who provided specialist rehabilitation and exercise support after hospital and community physiotherapy finishes. I was so eager to meet Tom and his team and have a day's session. While I was still in hospital, I booked a session as soon as I could as I wanted to get back to being me.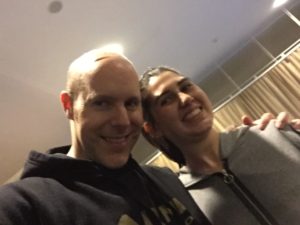 On the 13th December 2016, the day finally arrived! I was going to spend the day working on my left side with Tom. I can honestly say it was such an overwhelming and amazing day, one of the best days of my life!!! Tom helped me achieve movements I never thought I would see again for years! For example, picking and releasing with my left hand. He also taught me techniques to manage everyday life such as sitting position to standing position, steps to side to get out of danger and lots more. I was so inspired by the day that I went home and immediately purchased Tom's full set of DVD's called 'The Successful Stroke Survivor', which I would say is brilliant!
As fellow stroke survivors will know it can be quite a daunting, stressful and lonely path to recovery. I feel my family and friends are my important support network to keep me calm, centered and motivated, even at times when I have felt scared and vulnerable. It is nice that I can now include the larger Arnie Institute Group as part of my personal development team.
I found the day fun, motivational and very enjoyable and would thoroughly recommend anyone who is recovering from a stroke to attend this 1-1 with Tom and his team can't wait to start with an Arnie instructor.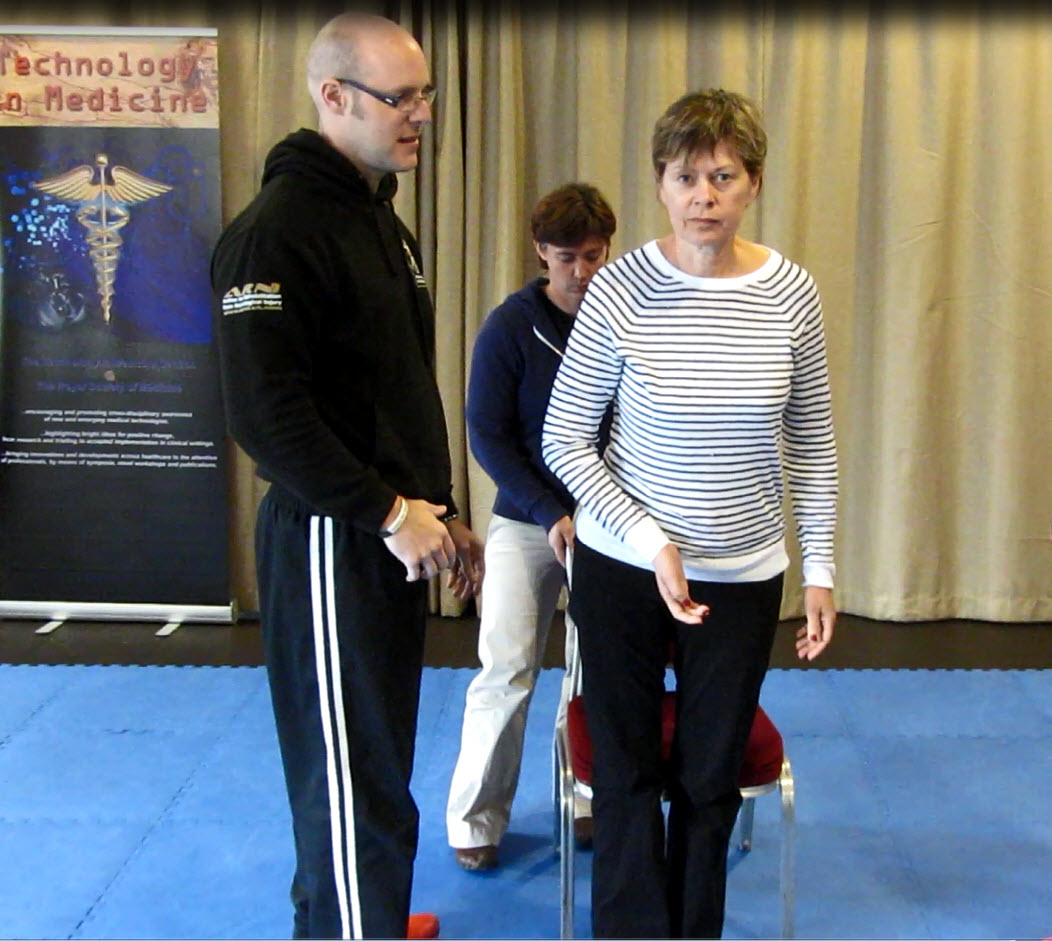 Tom, hope it's not too long winded-if so tell me & I'll edit! It's from the heart…
It all began on the 15th of September 2015. My beloved Sally got up from the sofa at 6.40 pm on that Tuesday evening to feed Crumble the cat. I heard a crashing noise in the kitchen & ran to investigate to find her on the floor unconscious.
She was only 48 years of age. When the ambulance arrived & eventually delivered her to Gloucester A & E I honestly believed that she'd be back with me again the next day. Little did I know what was before us!
So, the diagnosis was a large left hemisphere stroke. Ten weeks of care & rehabilitation in the stroke ward followed under the supervision of a wonderful consultant. Her right side movement was severely restricted & along with her speech & language. They managed to get her to stand, partially dress herself & say a few words. Why had this happened to someone who was very fit & healthy with low blood pressure & low cholesterol?
Then came discharge & we are home again but in a totally different world. I'm now a full time carer & trying to keep myself together with a full time demanding job. Wonderful care from the NHS via "early supportive discharge team". Occupational therapy, physiotherapy & speech. At the end of twelve weeks she was walking upstairs with help, walking around the house & saying a few more words.
The next phase in January 2016 saw us having out patient care at North Cotswold Hospital. As great as it was it just dwindled over the coming months & we are on our own.So now I'm investigating additional help & of course I turned to the internet. I read so many heart breaking stories & realised that we were amongst so many. I read about Andrew Marr, the journalist & how he had made a good recovery from a similar stroke. He spoke of the need for constant early repetitive tasks & physiotherapy to promote the journey to recovery. He had been in contact with the ARNI institute & had positive results under the guidance & supervision of Dr Tom Balchin. So, that was where I headed. I also discovered his publication "The successful stroke survivor" which we read from cover to cover. He also sent us straight away free copies of his new video publications as a special preview copy which is brilliant in no non nonsense terms & explains & demonstrates how to achieve daily tasks which Sally has been unable to do hitherto.
I e mailed Dr Tom & he responded with a call to home. How nice is that? We had a long conversation on that Sunday evening about Sally's situation & progress. I came off the phone & felt motivated & excited. Here is someone who understands what we have been going through & genuinely wants to help. The ARNI Institute is exactly what we need. A date for Sally, 25th of October 2016, to see Dr Tom was arranged with a one to one session, so now we wait with anticipation.
The day came & in the first few moments he challenged Sally's need for her tripod stick & right arm sling after thirteen months. (She hasn't worn the sling since & uses the stick much less).
Straight away we were aware of his empathy with Sally's situation because we discovered that he had suffered a stroke too some years ago.Later that morning after a diagnosis with two of Dr Tom's colleagues Laura & Liz, we were walking unaided around the gym area. Constant guidance & coaching on how Sally should position herself, where to propel the energy for most effective results, sitting to standing & sitting to floor. It was a joy to watch.
The most dramatic moment came in the afternoon when he worked on upper body areas. Sally hasn't moved her right arm for thirteen months & was previously told that it probably will never work again. Quite frankly we had given up on her arm & resigned ourselves to managing with one arm for the rest of her life. Within a few minutes Dr Tom had her lifting her arm & gripping small objects, lifting them in the air, down & back to the table. It was a most emotional moment & several tears were shed! She then got better and better at this over 2 hours!
How did he do that I asked? The potential was of course always there but it needed the right specialist coaching. He used different strategies than we have previously been used to. His methods are up to date, researched & inspiring. So, now Sally is a different person – she has an arm that moves albeit in tiny increments but thirteen months of inactivity have taken their toll. She has her zest for life again & sees recovery, in what ever form it takes, on the horizon.
We're back to see Dr Tom for our second session later this month & Sally can't wait. For the first time we have real hope of a recovery. He is a very gifted man but in his kind approach he is very firm when he needs to be to get the results he knows are possible. I would urge others who are stroke survivors to approach the ARNI institute.
Well done Dr Tom we are indebted to you.
Simon & Sally Jackson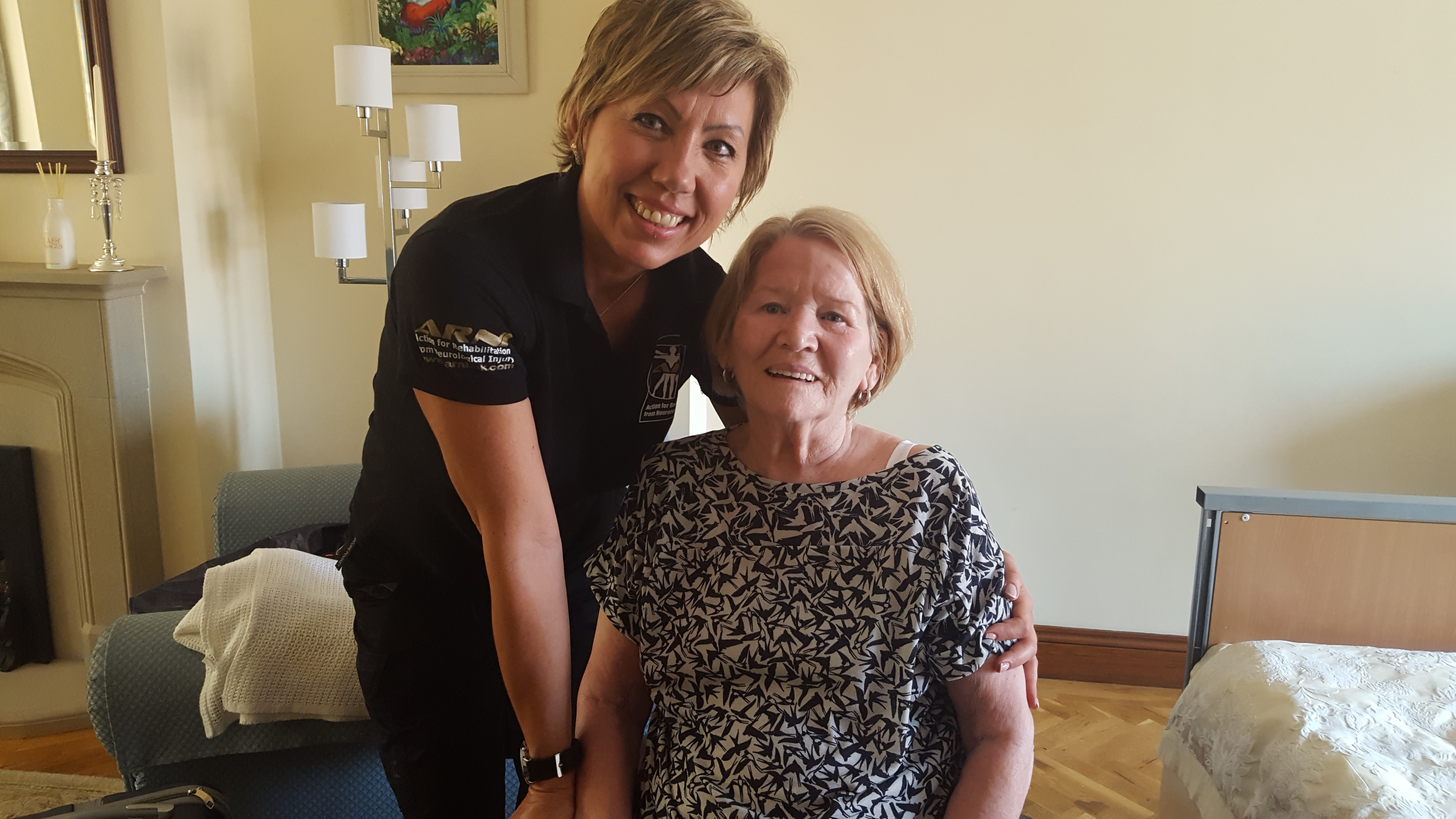 I first met Gabi towards the end of September 2015, after being in hospital for almost 6 months. Even though I hadn't had a stroke, I was recommended ARNI for physiotherapy rehabilitation.
Spending the previous six months, laying in bed with hardly any physio, meeting Gabi was a breath of fresh air. From the very start she has given me confidence and hope, and had me on my feet from the very first session! Her knowledge of medical matters is vast, and this coupled with her infectious confidence made me feel better from the beginning. Gabi is much more than a physical therapist, she is interested in your whole well being and has recommended and carried out many complimentary therapies.
What Gabi has given me and my family is immeasurable. I look forward to her visits (even though it's hard work!) and thanks to Gabi, I look forward to the future with hope.
North London Success Story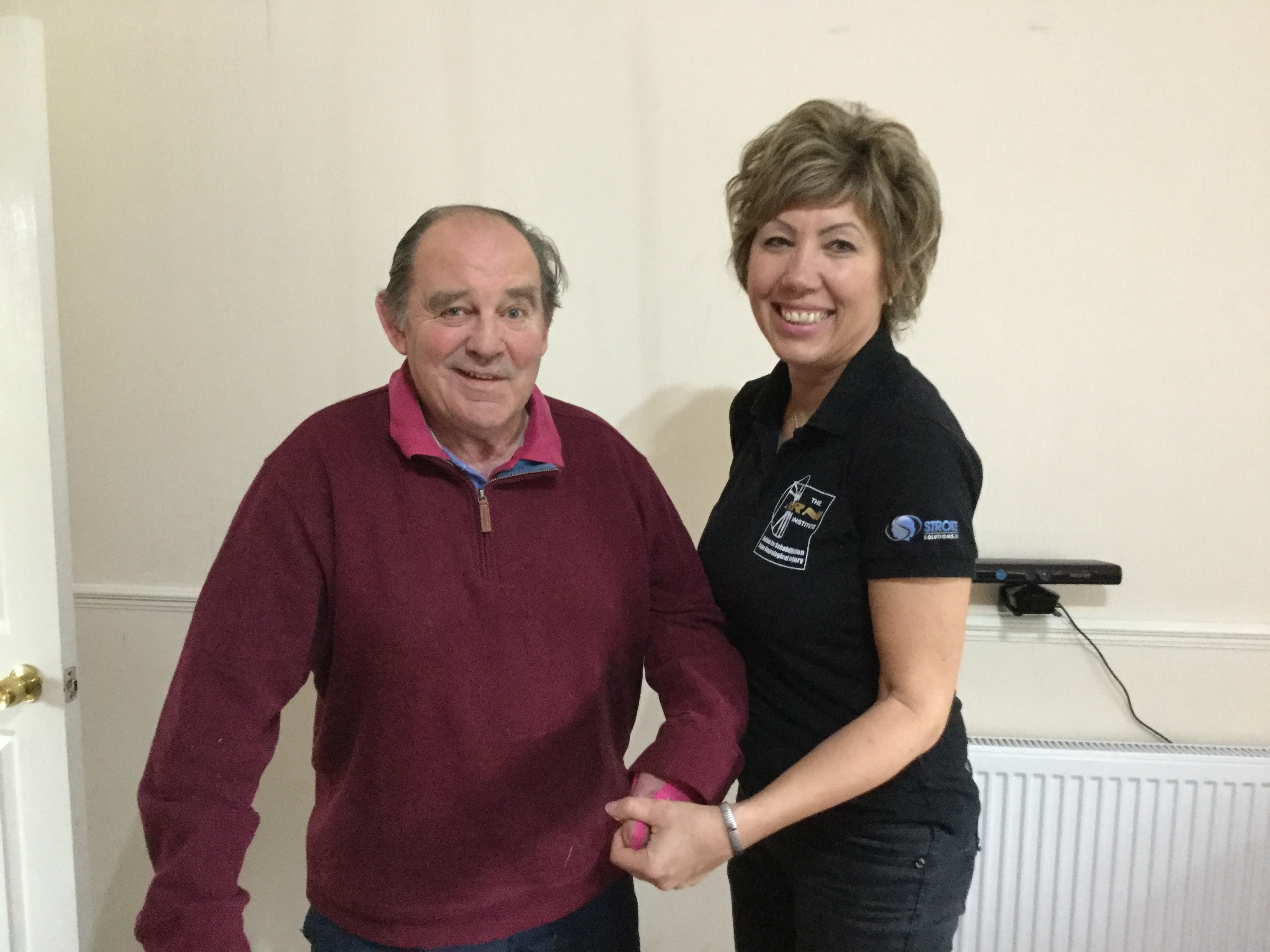 I had a severe stroke in February 2012 caused by a bleed on the brain. I spent about 2 weeks in a coma and as a result I lost the use my left leg and arm. I was in Hospital for 5 months before discharge.
In many respects I have been very lucky in that having spent 37 years in a Cavalry Regiment of the British Army and also volunteered and spent 3 years serving as a paratrooper with the airborne forces. So I have been reasonably fit and active all my life. This has all helped to give me a fairly robust view to adversity and a stronger mental approach towards what life can throw one's way. To this must be added the invaluable help and encouragement given to me by my wife Elizabeth and family who have thought laterally to get round problems where and when they have cropped up.
In July 2014 a friend who had also had a stroke introduced me to Gabi and ARNI, for which I shall be forever grateful!! On my first meeting Gabi instantly gave me encouragement that my progress had not plateaued and has astonished me by the simplest changes that have made such a difference. With her depth of knowledge and skill and encouragement, my confidence and abilities have grown. She has been able to push me further over the last year, and that, and the many progressive exercises she has shown me, are helping me enormously.
I am much stronger and more confident in my ability do things which others do as a matter of course. Such as going up and down awkward steps that have no handrails and going into strange environments, and even being able to get up from the floor! Most people also remark as to how well I look and seem.
In summary, my year spent with Gaby has left me far better prepared to face life's challenges. The exercises I have been given have been progressively made more challenging so that I feel that I can continue to achieve more generally.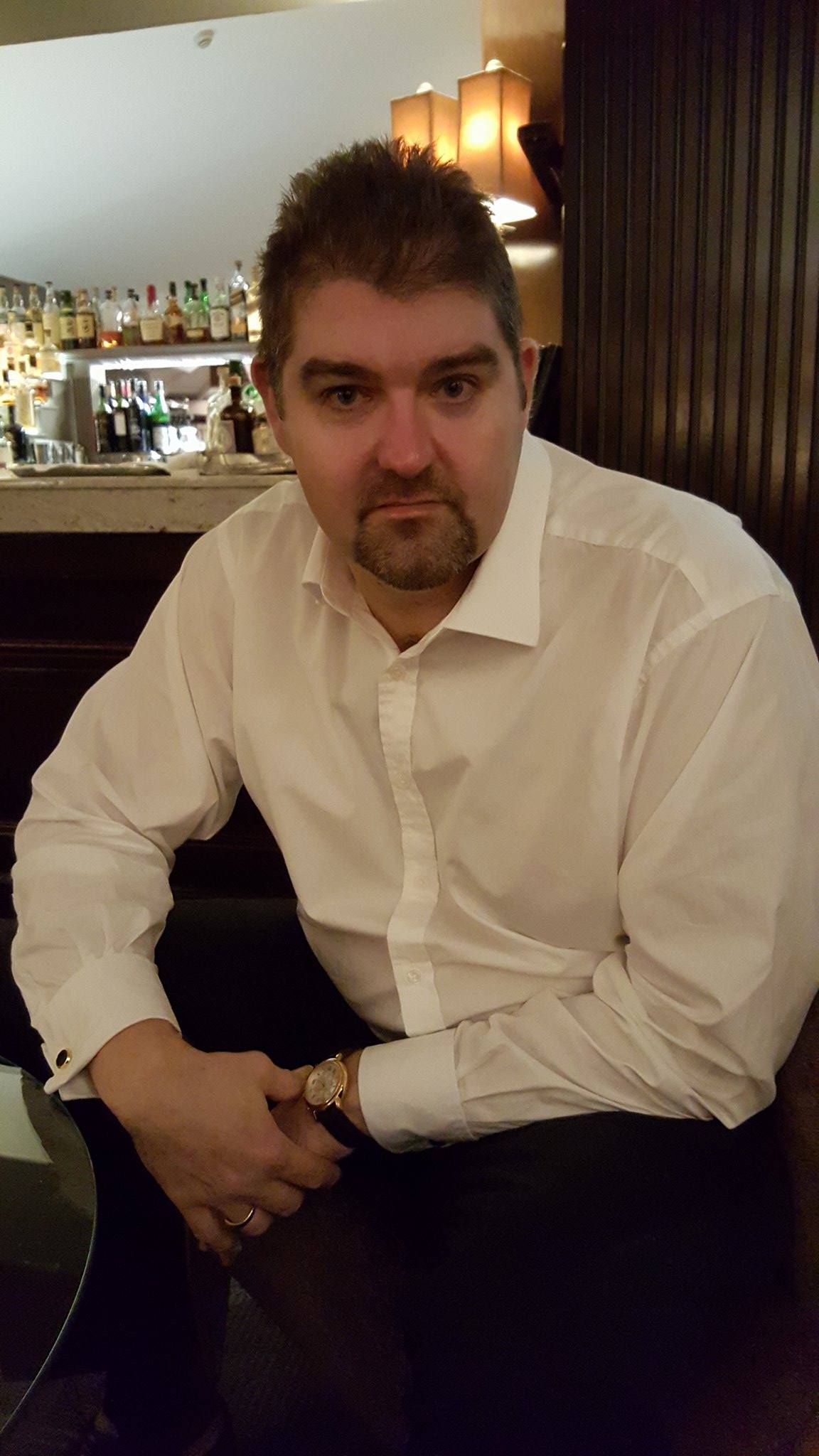 Having suffered a stroke 5 months earlier, I had become concerned by the lack of progress I was making. I began looking for other resources that I could draw upon to supplement my Health Service Physiotherapy. I was fortunate enough to come across the excellent book "THE SUCCESSFUL STROKE SURVIVOR" BY DR TOM BALCHIN.
I found the book to be a great resource of exercises, practical advice and inspiration. I credit the book with helping me improve my ability to get around with less effort. Having had positive results following Dr Balchin's Advice in his book I decided to attend a one-day training course run by Dr Balchin.
Being based in Aberdeen and not having flown since my stroke it was quite an undertaking for me, however I am delighted to have made the effort because I found the day to be hugely beneficial in terms of how my recovery could be enhanced by Dr Balchin's techinques and exercises. There were 5 other therapists there to help me.
Subsequent to attending the course I received personally designed exercise program from DR Balchin that will allow me to maximise my recovery potential.
As a stroke survivor of 4 years with left-sided hemiplegia in both my upper & lower limbs! I approached ARNI for help in March 2014. In my particular circumstances post-hospital NHS & private therapy, although extremely useful at the time, had failed to deliver the required level of improvement that I had expected.
ARNI were very easy to contact (in my case, via email) & they were very efficient in matching me with a locally-based professional instructor. My instructor, Gabriella, made me feel very welcome & relaxed on our first session & although she was very thorough in assessing my specific requirements the induction process was far from arduous.
Once accepted as a client I arranged to attend weekly 1 hour therapy sessions. My wife has been made more than welcome to sit in on all of my sessions & has been positively encouraged to provide input & feedback. This has been a massive help for me & ultimately very informative for my wife who now feels better equipped to support my specific rehabilitation requirements outside of the therapy clinic.
My instructor, Gabriella has been able to explain everything about the ARNI methodology in terms that I find easy to understand & together we feel that I have made significant progress. Importantly I have had a big input into defining my own achievable goals & aspirations.
I particularly appreciate the fact that my instructor wants me to improve & achieve my goals just as much as I do. It feels like we have developed a partnership for success.
Based on my experience I would not hesitate to recommend ARNI to any stroke survivor with physical rehabilitation needs & I feel very lucky to have been looked after in such a professional & dignified manner.
April 2015 update: My rehab is still ongoing & I'm still making progress despite not being any good at all at keeping up my exercises when I'm at home! It's a good job that my angel Gabi always ensures that I'm worked hard during my sessions with her though!
October 2016 update:
Dear Tom,
It has been such a long time since we have seen you.
How do we ever thank you for introducing us to Gabi. She has totally gone
above and beyond in every session.
If we had listened to the doctors David would of still been in a wheel chair
with no movement in his left side but thanks to ARNI, Gabi and Beth David is
now walking (not just around house but really walking around parks even
using public transport!!!) and David has major movement in his left arm.
The other day we stopped in park for coffee and in one hand David had a
coffee the other he was eating a biscuit with his bad arm while
standing!!!!! Wow I was blown away to be honest I screamed as he just did
all this naturally like other people take for granted!!!! But for a stroke
survivor this is major independence which is all David asked for and you
have given this precious gift to him.
David is a Doctor so when all the best most expensive doctors said when he
was in a wheelchair with no movement in his left arm hand at all said this
is the best he can get. David beloved it. But thanks to Google you
appeared at 3am after many many late nights search for help on the net!!!!!
And now he is standing, sipping coffee and nibbling on a biscuit all at
once!!!! What else can you ask for!!! Anyway the point is Doctors see the
problems ARNI see so much potential for improvement!!!! Ypu never promised
us anything which I do appreciated.
Gabi has been working with David for 4 months and wow her positivity and
dedication I think is stronger than mine!!!! Her belief in David is of such
respect and kindness but oh she gets him doing extra exercise and he does
not even know it!!!! Gabi has got me also joining in the sessions which had
been so good as it is the closest people who also need a little left too.
Gabi every session brings a new tool or something to try she never turns up
without her huge smile and huge amount of positivity.
I can not thank you enough Tom and Gabi for all you do for my husband but
what you have done for me, our children, our families and friends. As you
have given David independence which improves yes him but improves all of our
lives the people that love David.
I would love to meet when you have time as I have a few crazy ideas for ypu
to think about!!!!! Check out 'thenofycoach'.
All my best,
Mandy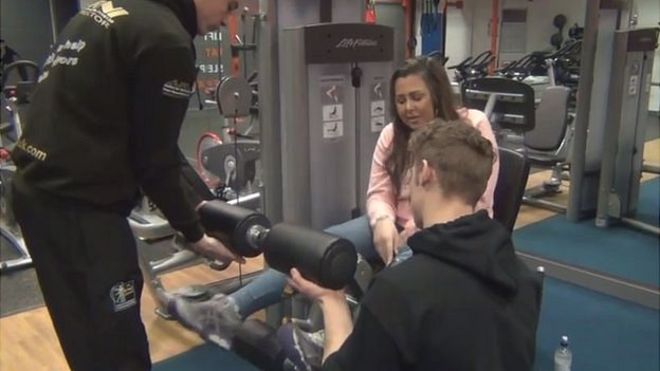 BBC News featuring ARNI Neath Port Talbot
Hit over the head 15 times with a claw hammer and left for dead by her ex-boyfriend, Gemma Price is now learning how to walk again thanks to a ground-breaking programme, also used by BBC presenter Andrew Marr after he suffered a stroke.
Gemma Price's parents were so convinced their daughter would die after a vicious attack by her ex-boyfriend that they planned her funeral.
But against the odds the 32-year-old survived and, after almost two years in hospital and numerous brain surgeries, she is now learning how to walk again.
It is a far cry from the early days after the attack in May 2011, when Miss Price, then a shop manageress, arrived home one Saturday to find her ex-boyfriend Kyle Llewellyn waiting for her.
He was convinced bubbly Miss Price, from Briton Ferry, Neath Port Talbot, had started seeing his best friend and flew into a rage – smashing her over the head 15 times with the hammer when she tried to ward him off, before leaving her for dead.
Swansea Crown Court later heard he phoned his father and told him: "Dad, I killed Gemma. I'm sorry, she was seeing someone else. I lost my head I hit her with a hammer."
His father rushed to the house where he found Miss Price covered in blood. Llewellyn, then 24, was arrested at Briton Ferry train station.
The court heard he had become jealous while looking on Facebook.
'Just jealousy'
He was jailed for 14 years in November 2011 after admitting his ex-girlfriend's attempted murder.
"It was jealousy, that's all," she said.
"I had never seen it in him before, he was a lovely guy but then it just happened out of nowhere.
"I loved him, you think you know someone then you find out you never did."
Miss Price was rushed to Swansea's Morriston Hospital with severe brain injuries, her ear was ripped off, her eardrum had been torn out, her jaw broken and her hands broken.
"What I remember from the attack is horrendous noise of my eardrum being knocked out," said Miss Price. "My right ear was ripped off too. Then I blacked out."
Her parents, Joan and Kieron Price, were told to expect the worst.
After being in a coma and on life support machine for a month, Miss Price was moved to the University Hospital of Wales in Cardiff.
'Reconstruct my skull'
A brain surgeon and specialist team started the long and painstaking process of operating on her injuries.
"When he attacked me with the hammer my brain was completely damaged and brain fluid leaked into my ear, they had to completely reconstruct my skull," said Miss Price.
"Part of my skull has now been completely been taken away."
Because she had a tracheotomy Miss Price had to learn how to speak again as well.
Reconstructive surgery was done on the ear which was ripped off with skin grafted from elsewhere, although she still does not have an eardrum.
"They say I might be able to have surgery at some point to replace the eardrum," said Miss Price. "We will see though."
She is thankful some things did not change, though.
"I have always been a bubbly sort of person and I'm so happy my personality didn't change after the attack," she said.
After additional stays in both Rookwood and Neath Port Talbot Hospital Miss Price finally returned home.
Learning to walk
"When I got home I couldn't even get up," said Miss Price. "I was not able to walk unaided and had four members of my family running around helping me, but I was determined to live alone and in the end relied on my wheelchair to get around the house."
But that year her sister Donna Charves, who Miss Price describes as "my rock" was to get married. Miss Price was determined to be there.
"I had a lot of physiotherapy to be there that day," said Miss Price. "But it was so amazing to be a part of it, no one thought I would be there, so Donna was thrilled I was there."
Four years on, she is learning to walk again thanks to an innovative new programme which helps stroke victims.
She started the weekly sessions last October and can already walk unaided – something she had given up hope of ever doing again.
"I learnt to walk when I was little, but now I'm starting my life all over again," said Miss Price. "I have gone from having my life taken away to being able to do things again."
The Action for Rehabilitation from Neurological Injury (ARNI) programme Miss Price is on was founded by a stroke survivor. It was set up to help people who have suffered a stroke or brain injury gain better control of their actions.
Just three trainers work in Wales, and they work with Celtic Leisure in West Wales. They qualified thanks to Abertawe Bro Morgannwg University Health Board grants.
Miss Price said: "Before I started this programme every day I would wake up not being able to do anything, the physio was not working, and my parents were told I would never be able to walk unaided again.
"I'm proving the doctors wrong. It has given me confidence again. Last year I wouldn't leave my house at all, I have found it frightening to go out after coming home from hospital."
'Daunting'
But Miss Price has to be very careful, because she does not have half of her skull, a fall could be fatal.
"It has been quite daunting because I had trained myself to live in one way – just in the house – and now I'm learning to live again," said Miss Price. "I am walking around the house with no help but I have got to be careful though as if I fall I could go back to square one again."
Miss Price was one of the first patients to be accepted onto the pilot ARNI programme which started last year.
She said: "They do a lot of balance work with me, I've been on the bikes, used leg weights, worked on my core muscles and they have helped me to try different types of walking styles.
"They work me hard but I love it – it's my favourite day of the week. They have helped me learn how to get down and get up, which is amazing as I wasn't able to get up before.
"My left arm was dead, but now I can move my fingers a bit, which is a massive difference.
"It makes you believe that you can do it, it has been brilliant for me."
Celtic Leisure's Sport and Physical Activity Development Manager, Natalie Hawkins, said: "We have worked on functional things with Gemma, the programme is about improving each person's capability levels to do every day tasks."
'Better person'
Miss Price says the rehabilitation has given her hope.
She said: "In May it will be four years since the attack happened. It seems a lot longer though, it seems like it has been forever.
"My family and friends can't believe how well I'm doing, this rehabilitation has given me my life back again.
"It has been the hardest four years of my life. But it has made me a better person, you see things differently when you go through something like this."

"stroke survivors this side please"….
Today I was lucky enough to train with Tom Balchin who created ARNI Physio and works with Andrew Marr (recent presenter who's had a stroke).
Me and mum turned up early, sat on a table, and I spoke to some physio who was going to be training us during the day, (stroke survivors not my mum).
Was a while until others turned up, with their leg swing walks and some in wheelchairs and drooped faces, hands and arms swinging down by their sides, I hated sitting in a room with so many people in my situation, mum could tell I was so nervous so she gave me my bottle of coke to calm down.
This lady started talking to me and my mum, the usual questions, "What's your name? have you been here before? Tom's ever so good"
"What are your limitations?"
I kind of looked at her and thought "is it not obvious?" But i'm not that rude so I just replied in a scared and nervous voice;
"oh I can't use my arm or hand, I suffer really bad fatigue and memory problems" She smiled and thank god carried on talking so I could just breathe and concentrate on trying to hide my nerves.
Then they slowly appeared, One at a time, All smiling at our table of 'stroke survivors' trying to hide their paralysed arms.
The lady said she was cold so I offered her my coat which she refused, which I was shocked about, cause she then complained she was still cold…
I kept smiling at everyone Tom Balchin came over and shook my hand asking my name and how far i'd travelled to get there.
More stroke survivors arrived, this time in wheelchairs, I was the youngest there which didn't help my nerves.
Tom then asked us to all stand opposite the Physio's so he could pair us up, I stood their trying to hide the fact my Clonus (leg getting tired and shaking unable to stop it) was so bad my whole body was shaking. I just held my head up and kept smiling at some Physio opposite me. I got two girls who were so lovely;
Annie and Carol (around my age)
We then sat down to do an assessment where we had to scale things we could & couldn't do 1-5 ( 5 being extremely difficult).
They asked me loads of questions about me, my stroke, my lifestyle. This is the first time i've spoken about it face to face with someone I just sighed and explained;
"Well I had a numb arm a month before my stroke and my face had started drooping I went to a&e but they told me it was a trapped nerve, I then went to sleep feeling really unwell knowing something wasn't quite right and woke up paralysed down my left side"
The Physio just looked at me and replied "wow, how old?"
"20 but i'm 21 now :)"
"oh so you're a year into recovery?!"
"no, only 9 months :)"
Tom came over and read that I was asleep, he looked at me in shock "blimey! so you couldn't even be thrombolised?!" (getting rid of the blood clot within 4 hours of having a stroke)
I just looked at him and went "well shit happens aye, i'm still alive and thats the main thing :)"
"yes Lizzie you're right, just unfortunate you're so young" (as if I don't hear that enough)
We started by walking to the matt, where all the unfortunate stroke survivors walked to (or were pushed to for those in wheelchairs) My first task was to get onto the floor & learn to get up again, I was so scared, i've tried so hard teaching myself because NHS Physio's don't actually see me anymore. But Annie literally taught me how to do it in 2minutes and after the first go I did it! I smiled so much, I literally looked so queer, She saw how happy I was and said she was proud of me :).
I didn't want to give up even though I was exhausted so we carried on training for 2 hours ( longest Physio session i've ever had) In this time I learnt how to; stretch my arm, Open my hand, squat, place my feet, balance on my left hand, Do leg exercises. Probably the best Physio session i've ever had!
After we'd all finished our training, we sat in a line opposite the Physio's each one of us having to say; who we'd been training with, what we'd learnt and some of us show what we'd learnt.
Okay so this lady who was 75, in a wheelchair and couldn't speak was with her husband, she'd learnt how to stand up alone, She showed us how she stood up and how to get up & down from the floor.
My heart sank, I literally had tears streaming down my face but tried to hold it in because I didn't want her thinking I was feeling sorry for her, when all I wanted to do was walk over help her up and hug her so tight all the pain would disapear.
The most inspiring thing to me was a 7year old boy who'd had a stroke at 5. And he was so happy, running around and being so cheery. Such an amazing little boy.
I never knew how much a stroke could actually affect someone until today, The swallowing, speech, confusion, memory problems, walking, Use of limbs, Fatigue Oh god the list goes on…
This broke my heart, two ladies talking about the operation they'd had to removed half their skull, My mum told me in the car that apparently if I hadn't recovered as well as I did in the first 24hours i'd of been sent to London to have this operation. Like, what the fuck. You never realise how lucky you are until you hear something like that.
My thought for the day is;
to just make the most of what you have, enjoy life and live it to the full, party hard and be healthy oh and get your blood pressure checked to make sure you don't become a 'stroke survivor'. It's hard and will never end no matter how much I recover..
And whatever life throws at you, you can do it, nothing is impossible. You just need to stay as strong as you can.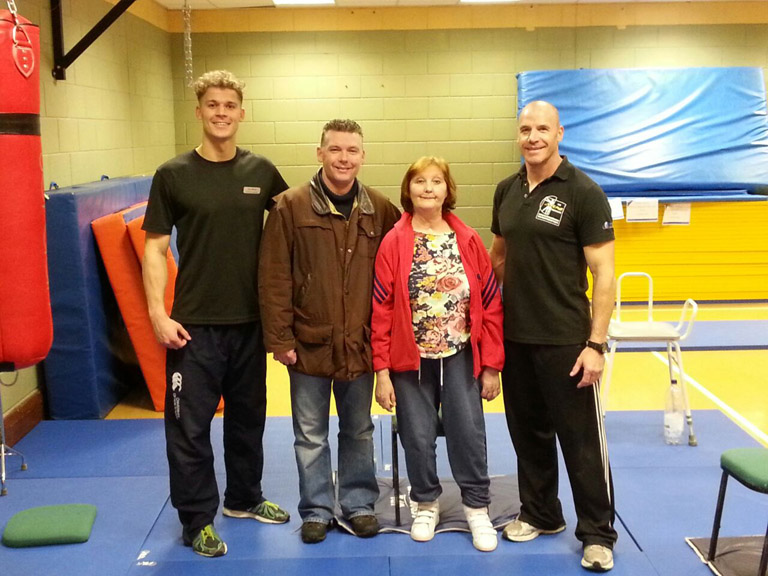 (on behalf of his mother, Mrs Suzanne Kingdom)
My name is Jeremy Kingdom and I am writing feedback for the Arnie project on behalf of my mother Mrs Suzanne Kingdom. My mother suffered a stroke in April 2013 and was admitted to hospital in Cardiff. Since then my mother was then admitted to a neurological – physiotherapy department at Neath/Port Talbot hospital where she spent 6 months recovering from the stroke. Whilst there she had regular physiotherapy and other help from occupational therapists to help her recover. After being discharged from hospital we then had a private physiotherapist come to the house once a week plus a weekly appointment with a NHS physiotherapist.
Whilst these other various therapies were of benefit to my mother's recovery we have found as a family that the Arnie Programme that she is now involved in is of massive benefit. I have found that although the other therapies are in their own right very beneficial to patients there is a big comparison to the Arnie Project and these other therapies. The Trainers at the project, in particular David Francis are very professional and very knowledgeable in their understanding of the neurological affects and the recovery process of those affected by a stroke. I have found that David has an excellent way of relationship building with patients to make them feel comfortable within the Recovery Relationship and also has an outstanding ability to create confidence and motivation.
I have found that the Trainers at Arnie have a vast knowledge of techniques to aid patients which are of major benefit to the recovery of my mother. In particular, some of the techniques I observe are to teach the patient to be able to get up from the floor if they fall. Other techniques such as grasp and release, walking unaided, concentration skills, balance skills, various training techniques to build up strength and many more techniques. Also the Trainners provide an excellent training programme for my mother that she can follow at home which helps her strengthen her weak side affected by the stroke and also overall strength building exercises.
I have found through my own journey as a family member of a person who suffers a stroke that there are therapies out there that do a lot of good in helping those recovering from a stroke. I have found that although these therapies help those suffering from a stroke they do not compare to what I have experienced in observing my mother recover in the Arnie programme. Since my mother's stroke I have always looked for all kinds of therapies to help her recover. I sadly say that in the 18 months of my journey helping my mother recover that there was no mention of the Arnie Programme and we stumbled on the Programme by sheer luck
I think that there should most definitely be much more publicity whether on television via a documentary of the programme or within the NHS or Local Health Authority. I can honestly say that the Arnie Programme is the "Therapy of Today" which is the way forward in helping those recover from a stroke. I really hope that my feedback to those who could make a difference in Promoting the Programme is valuable. If there is anything that I can do in further helping the Arnie Programme then please do not hesitate in contacting me.
All the Best in making the Arnie Programme Public and I hope that the Programme would run as part of an NHS scheme alongside the other therapies.
Yours Sincerely,
Jeremy Kingdom.
(Thank you Jeremy – and David Francis and your ARNI trainers in Wales – Tom)
My One to One Day at Lingfield with Dr. Tom Balchin
What a warm and positive welcome my husband Tony and I received from Tom and his physiotherapist colleague Daniel. I explained my stroke occurred in March 2011and we were soon going through some important paperwork while Tom watched my physical movements and verbal responses. Tom explained the principals behind the ARNI Approach and the many challenges he personallyhad to overcome after his own stroke to achieve his return to fitness and how these learning curves plus the work of researchers, therapists and trainers over the years to create a continually updated 'evidence=base' helped him to devise his strategies to help stroke victims, atwhatever stage of their stroke survival they might be, to reach recovery goals.
Everything we talked about was so very pertinent to what I, and I think so many other stroke victims experience. The plateau we reach after NHS treatment and physio ceases. No one appreciating that with more 'hands' on physio/training help so much more can be achieved. This is the gap that ARNI can so successfully fill. It is unbelievable that ARNI does not receive the recognition it deserves through government 'funding' channels to enable it to enter the 'mainstream' services so vital after a stroke. Tom and I then moved on to video baselines after a sfroke quality of life scale and upper limb function measure with 9 things to do. We did some mat based exercises identifying what areas of physical help I need and identified where my 'edges of current ability' are with lots of things. The going was tough but Tom modified everything we did to achieve maximum success and build up my confidence that so much, which I had thought impossible, can be achieved following his example and lead going through the challenge of getting down to and back up from the floor. Such a confidence building exercise as this is a hurdle which removes some of the 'vulnerability' experienced by most of us after our strokes. When we are down on the floor, most of us feel like 'turtles turned over on their shells'. Utterly helpless and reliant on others to help us get back up. A horrible, frightening place to be. Mastering this gives us back much more than just the physical ability to get up but removes the emotional feeling that we are helpless. Tom knows this feeling and he knows what a great boost mastering this is in motivating recovery. We did other strengthening exercises designed to overcome leg weakness especially for the back of the legm called 'prone leg curls'.
We broke for a delicious sandwich lunch continuing our stroke experience conversations. Every experience and hurdle I encountered after my stroke Tom could identify with everything with. His knowledgable responses and suggestions offered such encouragement and positive predictions for future ongoing recovery. Tom then spent time working through oarticular stretches I can do myself for my left upper sided affected limbs to create a plastic template. We did task related training exercises to reduce the spasticity in my fingers using a task training board and also a challenge board, while encouraging stretching of fingers, techniques to relax the hand as it fights to clench, etc. We then proceeded on to picking up and moving different shaped objects correctly, using his specially designed 'Velcro' Board, with my affected hand and releasing them again. Screwing up and unscrewing jars and using the prototype Hand/Finger stretching heavy metal device' also designed by Tom. The 'unclenching' techniques assisting these exercises greatly.
I finished this thoroughly positive and Successful Stroke Recovery 'enlightening' day with Tom on a personal high looking forward to setting out on the 'Successful Stroke Recovery Journey' with Tom and ARNI'S ongoing support.
Three days later I received a very long email with all my exercises and strategies to do, all personalised for me to do by myself and/or with Paul, my new trainer, who Tom was able to match me up with via his referrals manager, Kathy. Kathy sorted all this out and now I'm also coming back for a free training half day in a week's time, with another 3 or 4 of these free days to come during early 2015.
Thanks Tom at ARNI (and Stroke Solutions which admisters the matches to qualified, accredited and insured ARNI neuro exercise instructors)
Karin Matthews
An email came in two weeks later – we don't usually place emails up like this, but in this instance, an exception is made – have a read and you'll understand why..
Hi Tom
Thought you would like to know that, after a fall last night, I managed to get back up on my own using your wonderfully thought through method.
Tony got the chair which I then used as you showed me.
With just a slight adaptation, using a pair of nearby floor weighing scales, which helped me more easily raise myself up on my right side and roll onto my right leg and knee. This worked and put less pressure on my replacement left knee as my right knee took the weight straight away being in the right position you had worked out. Then, it was a case of putting into practice what we had done together and you again showed me at the end. It worked and I and Tony can't thank you enough for going through that with me on the day we came to Lingfield.
It means a fall can be overcome and you know only too well what a feeling of relief that is.
Working with Paul, your trainer, is working out so well too and I am working my way through your e-mailed exercise plan, alongside what Paul is working with me on, every day building up my strength. I can already feel the benefits
and that, through your and Paul's help, has motivated me to step out of my comfort zone and work hard every day to maintain recovery progress.
I know you will be pleased to hear this.
All for now, Karin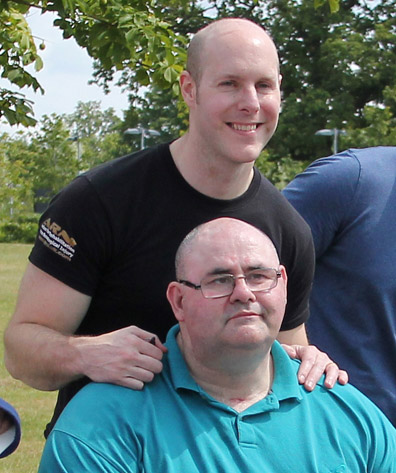 Hi Tom
Well, what can I say, my family and I have just had the most wonderful day with you and your instructors at Lingfield. You made us all feel so very welcome and inclusive.
Steve was a little apprehensive in coming to see you but things certainly changed when we got to you. We noticed that he was relaxed right from the start and we have not seen him work so hard for three years. It was so great to see. It was fantastic to see him trying hard and willing to try anything you said and to be quite honest astounded us with a couple of things. It seems that ARNI is just what Steve needs.
It was lovely to meet you and your instructors, each and every one of you spending your time to talk to us all, listening and caring, you all are quite wonderful people. We thought Steve may be a challenge to you but you didn't tell us that at all, you just carried on training and teaching him and we thank you so much for that.
Steve has returned home quite positive, very weight conscious and right now getting ready to work on the 'bar' in the kitchen with everything you taught him yesterday. I'm popping out shortly to buy the tools you suggested and we'll be working on sessions with these too.
We were overwhelmed when you invited us to return next week and we would be very happy to do that if the offer is still there. Hope to see you soon.
Kindest regards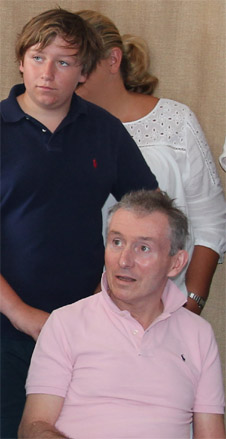 Initial day training Session with Tom at ARNI, followed by one free training day at ARNI Central.
I am a stroke survivor who has just been discharged from hospital. I have just been to 2 A RNI workshops. So I am, as it were, just "on the threshold" of the full ARNI experience. What I would say so far is that I fully support ARNI's general idea. Clearly, the "medical model"
(what doctors can do for us) is likely only to have limited returns from this point on, so ARNI's emphasis on the importance of the individual "self-training" to try to overcome residual effects is, in my opinion, going to be "just what the doctor ordered". I can't wait to get started with my new trainer!!!
"""""""""""""""""""""""""""""""""""""""""""""""""""""""""""""""""""""""""""""""""""
thanks again for 2 inspirational sessions, and all your dedication and hard work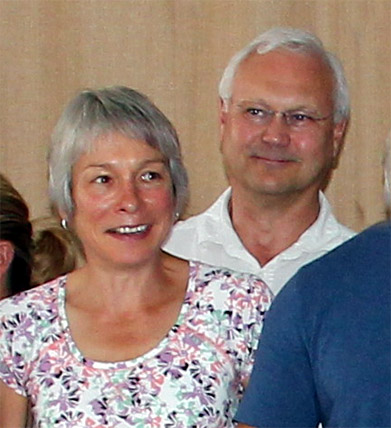 Sue attended the RSM ARNI Stroke Technologies Conference 2014 and had just been discharged by the community team a few weeks before. She was marched with an ARNI INSTRUCTOR (an occupational therapist) and she also came to free training day at ARNI – ENTRY ONLY TO PATIENTS WHO HAVE ATTENDED ONE TO ONE ALL-DAY TRAINING SESSIONS WITH DR TOM AND TEAM AT ARNI LINGFIELD.
Wednesday was amazing and I seem to be even more motivated since !!!!!!!….if that is possible : )
Trainers and stroke survivors meeting up and sharing experiences.
Learning from others how to overcome and deal with different issues you have as a result of a stroke.
Survivors did a range of exercises watched over by their allocated trainer for the session. Tom circulated and spent a few minutes with everyone and gave us advice on exercises to add to our programmes, highlighting the areas, obvious to the experienced eye, that need to be concentrated on.
Everyone had a common desire to improve. It was a very happy and uplifting day which left me eager to get on with it.
Good to meet you again an get another dose of your very infectious enthusiasm and encouragement to raise the bar and put in the effort to achieve their goals.
Cheers
Sue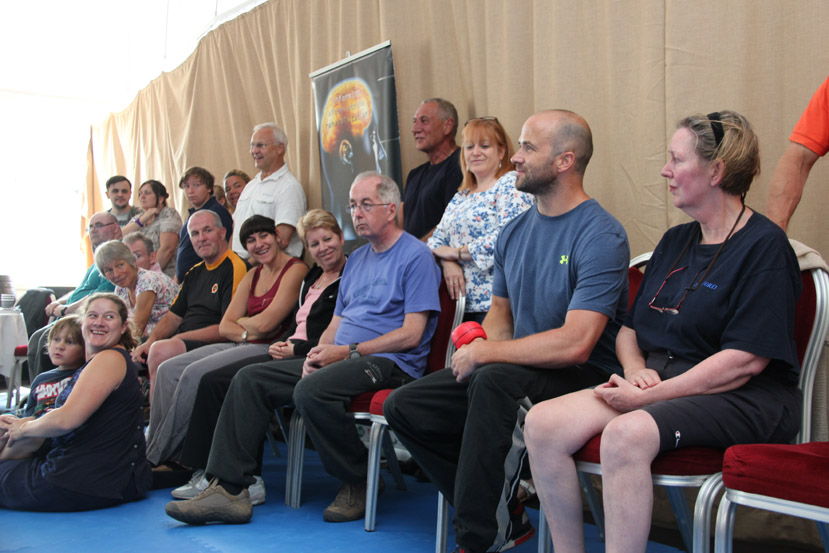 Initial training Session with Tom at ARNI, followed by 3 free training days at ARNI Central spaced out during 2014 (example, below). Mat has also taught on the ARNI FRETS Course and attended at the RSM ARNI Stroke Technologies Conference. He is a total star.
Mat 35 from Brighton.
After suffering my stroke during a craniotomy in January 2013 I woke to complete paralysis of my left side. 2 months later I was discharged from hospital still restricted to a wheelchair although able to walk very short distances with the quad stick and climb small flights of steps using the hand rail. Having been a personal trainer / strength & conditioning coach since 2001 my rehabilitation has been massively helped by my previous physical condition, motivation and extensive knowledge of training methods, exercises and progression.
I have now completed 2 days with Dr Tom and his ARNI instructors. Each time I have found myself challenged physically as they really know the boundries of stroke rehabilitation and so are uniquely able to explore every individual's limitations and needs.
I have left both sessions full of enthusiasm and with many new ideas, techniques and progressions to play with and further my recovery..
Thanks Tom, bring on the next day!!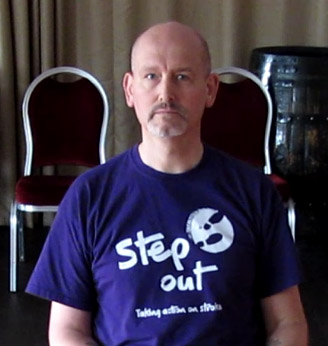 (from Sharon)
My husband, Stephen, had a stroke in January 2011 when he was 50. It resulted in Right sided weakness, whilst he has good gross movement and strength in his right arm, fine movements remain a challenge; in addition he has significant foot drop and weakness in his right leg and currently walks with a stick. Stephen is also aphasic. As with any stroke survivor that day in January changed his life in so many ways.
We spent a day with Tom, the best thing we could possibly have done. Tom is an incredibly motivating individual and where he is a stroke survivor Stephen was able to fully relate to him; he got so much out of the day. Not only did he open up about how the stroke made him feel, the techniques he was shown allowed him to feel more positive about his ongoing recovery and future. He came away from the day buzzing and looking forward to continuing the exercises at home. We are so grateful that we found ARNI and Stephen would strongly recommend it to fellow stroke survivors. As the wife of a stroke survivor I would like to say thank you to Tom for giving Stephen hope for his future! I also recommend his book and manual Successful Stroke Survivor highly to anyone who has had a stroke.
My husband and I have set up a group for stroke survivors of working age, we have recently held a fund raising event to raise money to sponsor two people to attend ARNI Instructors training and also to fund members who have not been able to fund and benefit from one to one sessions with Tom.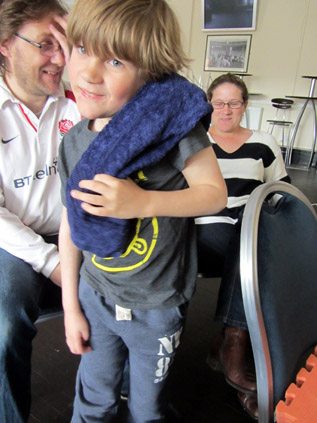 My husband and I recently took our son Alex to see Dr Tom and his team. Alex had a stroke in december 2011 which left him with right sided hemiplegia.
He has been having regular physio and OT, he walks with a limp but is pretty stable, we are having problems with his hand. He can use his arm quite well but he has no fine motor function in his handand is prone to clawing.
OT have told us that this is as good as his hand will get, my husband and i are not going to accept that.
I already had Dr Tom's Sucecssful Stroke Survivour book and followed ARNI on facebook. I received an email inviting us to a massed training session so i contacted ARNI to book a place for Alex.
After speaking to Dr Tom we arranged to meet and we were lucky to get a one to one session, it was the best thing we have done.
After our first session Alex and ourselves left feeling so positive. We had a fantastic day, we were all shown exercise's and a " magic trick" as Alex like's to call it to relax and work with his hand. We hadn't seen Alex use his hand that much since his stroke but he was happy to use his hand with Dr Tom, and he used it alot that day and has done since.
We have just had our second session which was free, with five other Instructors there too and we are already seeing improvement in Alex's hand movement, he is more positive and willing to use it. He has also just ridden his bike for the first time post stroke.
My advice to any stroke survivour and family is go to one of the session's it will change your life.
We are so grateful to Dr Tom and his wonderful team and we look foward to our journey through Alex's rehabilitation with them.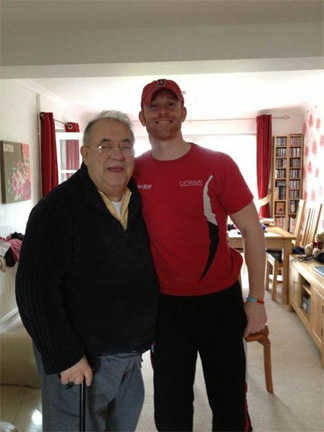 Testimonial from Valerie – Wife of Trevor Router
In October 2011 Trevor was diagnosed with a brain tumour (acoustic neuroma). Many months went by and Trevor had lost his ability to walk, relied on a stair lift and any enthusiasm to enjoy life had gone. All Trevor did was sit in a chair and watch TV. He had no interest in even answering the phone or using his computer. Prior to him suffering from the brain tumour he loved to play the tuba, but due to the deterioration in his breathing he was also unable to play.
In November 2012 I contacted a friend who worked at the Stroke Association who recommended ARNI and this led to me contacting Scotty. On the 23rd November 2012 Scott came and started with Trevor and began a programme of 2-3 sessions per week.
The change in Trevor by Christmas was greater than we could have ever imagined. Trevor was walking around the home with his frame, and his co-ordination was noticeably improving despite the tumour not reducing in size.
In late January things really started to come together. Scotty got a reluctant Trevor walking outside with his frame and within the house unaided. Trevor is also now able to get up and down the stairs independently without his stair lift. Trevor is now capable of getting up and down from the floor by himself that has allowed Scotty to add floor exercises to sessions.
Trevor's interaction and conversations with Scotty has lead to him once again wanting to answer the phone and he wants to see his friends. Trevor is simply a different person from last year and it all thanks to Scotty's hard work and professional advice. Last week (now in February 2013) thanks to Scotty's persistent encouragement he turned on the computer again, wet shaved, helped with cooking and washed up.Scotty has made an enormous difference to Trevor's life. A difference noticed by our family, friends and at our must recent checks up at the GP surgery. Trevor's GP has asked us to send a well-done message to Scotty as he too is overwhelmed by the improvements.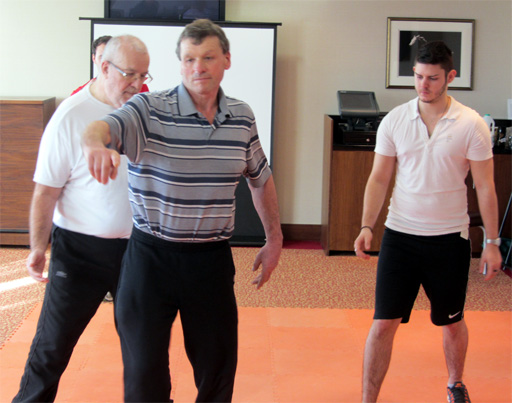 Hi Tom,
I have been to see my brother Tony today who spent the day with you and your team on Thursday. I cannot begin to thank you enough for the difference you have made to both him and his wife Lisa. I spoke to him on Thursday evening and he sounded so upbeat and said he had had a brilliant day. He said he had done loads of things and he loved every minute of it. I told him it was not my idea of a great day out.
On a serious note he told me he had got so much from the day and how much confidence it had given him. I think he surprised himself and your team with what he could do and again this was a massive boost for him. Lisa said she was so glad she could go with him as she was able to see just how much Tony can already do but also what it is safe for him to do moving forward. I am sure you understand she has been very worried about him overdoing it and causing more problems, but she now feels very confident in his ability.
I had a really long chat with him today and he told me all about the day. It certainly sounded very comprehensive and very challenging. Tony had so many positive things to say about you, the team and what the day had meant to him but two things stood our for me. He said it was nice to be treated as a "normal" person again and the other thing was he was only looking to the future and the past has gone. I have always loved and admired my brother but his strength of character so far on this long journey ahead has amazed me.
I know that he was inspired by you and spending time with somebody who has a real understanding of the challenges he faces but has overcome them and gone on to do so much with there life like you really gave him hope for the future. I am so grateful that you were able to see him so quickly as yesterday he had his first visit from the physiotherapist. He was utterly disgusted as she was there about half an hour asked him some questions, made him stand on one leg looked at the sheet the hospital had given him and left. No offer of a "training" program or joining a group. Once again thanks to you he has clear guidance on what he needs to do now to help himself. We said today imagine if he had not had your manual and spent the day with you what chance of a recovery would he have had? He has waited two and a half weeks for a supposed urgent referral and this is what got, absolutely nothing.
Tony said he is coming back to see you in April and said that there is no charge, if there is please tell me as I don't want him to pay. He also said he will do a testimonial for the website so I will sort this out for him when he decides what he wants to say.
I feel so thankful that I found your website and sincerely appreciate what you have done for him. I will share this information whenever I get a chance to do so as everybody deserves the best possible chance to recover and I genuinely believe your organisation can offer that.
Best wishes, Lorna
From Tony:
Tony 57
Having very recently suffered a stroke that left me with right sided weakness I was left completely unsupported by the NHS. By chance we found the ARNI Institute on the internet and I am very glad we did.
Last week I spent a day with Tom and his trainers. They worked me really hard throughout the day, gave me lots of very useful tips and information and I came away with a program of exercises and feeling much more confident about my future. My wife came with me and she said that she was surprised at what I was able to do and how much reassurance it had given her in terms of what I should be doing moving forward.
It was a really good day and I found it very valuable. I would recommend this day to anybody else that has had a stroke.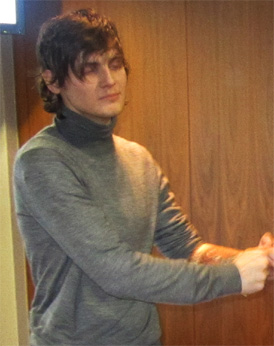 This following message is from Liam's dad:
Hi.I am writing this testimonial on behalf of my son Liam.
In July 2011 he had a massive stroke which was a result of severe heart condition. This left him paralysed on his left side. During his time in critical care he underwent very limited rehab due to being on a heart machine. Therefore for approx 5 months he could not exercise and lostsome crucial time straight after stroke.
After leaving hospital he had a course of physiotherapy from our local authority,which was very good and got his walking stronger and his left arm moving.
But as with lots of stroke survivors his left hand had no movement.
After 12 weeks the physio was stopped and we were left to find our own alternatives.
With Liam being only 18 when he had a stroke we felt he needed to find younger stroke survivors for him to be able to relate better. When a friend told us about ARNI we got in touch and made an appointment. We weren't quite sure what to expect but were open minded.
We went to meet up with Tom in Lingfield and after intro's Liam was shown a whole range of exercises and techniques to improve arm ,leg and hand function.
The day went very well and Liam came away tired but much more optomistic.
Before that day Liam had been very depressed and felt he would never be able to use his hand again.After meeting Tom and seeing what he had achieved
Liam is much more positive and now has the belief he can do the same if he uses the ARNI methods.We have been back again and had another great day.
The follow up was very good and Tom's always on hand with advise if needed.
As Liam's parents it was a great relief to us to know that with some hard work he can live a relatively normal life.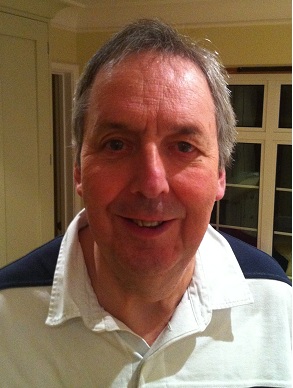 I was introduced to Tom Balchin by a mutual friend who had heard that I was becoming frustrated because I was experiencing problems following my discharge from hospital after having a stroke in Jan 2011 and was not getting much help from the medical professionals .
Their response was that these things happen after the type of stroke you have had which affected the deeper ganglia in the brain and you have to learn to live with it.
Well those of you who have met Tom will know that he believes that there is a lot more that can be done after discharge that will regain you action control, balance, gait, strength.. the kinds of things that I was lacking.
He immediately started me on a series of exercises, and having worked in the Health Service myself I hold fairly traditional views about treatment so you wont be surprised that I was feeling slightly sceptical when I found myself "flowing around the room" like a trainee modern dancer only to follow this with a poor imitation of a samurai warrior with a shortened broomhandle.
As we discussed what I was doing it became obvious to me that it was not only the movement that was important but also the coordination throughout the body, which is so important in maintaining one's stability.
THE other important feature was that he focussed on what I could do and not what i couldn't do thereby giving me a much more positive attitude to my situation.
It was certainly the positive attitude and confidence which he instilled in me that has enabled me to continue the significant improvement in my recovery which started at our first session when having hobbled in using my stick I ended the day carrying heavy boxes across a rough drive and up steps totally unaided.
I was shattered when I got home but I really amazed my wife by getting out of the car without stick or help and walked into the house up a steep step without stick or help. I'm not going to use the stick or plastic orthotic again.
I would certainly strongly recommend the ARNI programme to anyone recovering from a neurological injury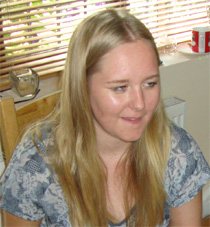 So lovely to meet you the other week, you are so inspirational its unreal and really gave me the motivation I no longer feel from my community rehab. You will be pleased to know I am no longer getting an electric wheelchair and fully regret letting my occupational therapist talk me into it and am instead applying for funding for a saeboflex to help with my hand, which i think will be a much more positive investment.
I have been keeping my splint off in the house (i still feel quite vulnerable leaving the house without my splint & walking frame but i'm hoping to try this soon!) and have found that I have a tiny bit of movement in my ankle now! My tone is much lower in my arm thanks to your strengthening exercises and stretches and I find the exercises you showed me much more exciting than the ones I had previously! I have also been walking much further than before (i can get to the beach from my house and further!!) so I just wanted to say thank you for giving my attitude an extra push. Your book is absolutely addictive and I have learnt so much from it.
I have written you something to put on your website to help others see what's going on at ARNI: if its too long feel free to delete wherever you feel appropriate.
I was shown the Arni website by a member of Different Strokes when I was going through a tough time with my community rehab team and was worried their treatment was no longer suitable for me. Things with my community team picked up but the closer the discharge date came the more I wanted to look into seeing a trainer from the trust. My parents organised for me to attend a day training with Tom, I was very nervous to start with, having seen the website I knew he aspired to get people out of their wheelchairs and onto their feet.
My Stroke was only at the end of Feb and at the age of 21, I was already more than happy to be out of my wheelchair, I knew my walking frame and walking stick was a no-go for seeing Tom which I felt confident about, though I still foolishly took my stick and was asked not to use it petty much straight away, again something I was fine with but what I was worried about was being asked to walk without my leg splint. Although it was something I was desperate to get rid of it was truly embedded in my comfort zone, mostly down to the fact that I was told I wouldn't be without the splint until at the earliest January 2012.
Arriving at the ARNI trust I walked from the car to the door using my stick and wearing my splint, getting through the door Tom asked me to not use my stick which I happily did. It has been clear for a while that I don't need it often walking across the room and realising I've forgotten something.
The first part of the day we talked about my experience, assessing what abilities I had and discussing how important it is to be positive. Tom also kindly shared his experiences with me, making me feel very comfortable and motivated to try anything he threw at me. Beginning the physical training still wearing my splint we began exercises. having a break Tom asked if I would like to take my splint off, nervous I knew he wouldn't ask me to do anything he didn't think I could do so I removed my splint already knowing I could stand without it. He then asked me to walk around a square mat, i slowly made my way around it surprised that I didn't fall flat on my face.
I then continued for the rest of the afternoon without it, being shown how to get on and off the floor, walk and turn, move out of peoples way if they were walking into me without realising I couldn't move out of the way well, balancing on each leg and even kicking out to the side. I also learned how to do warming up and about cardio. These exercises kept me much more entertained than the ones I have been doing since leaving hospital as they felt more like a work out and the best thing was I wasn't wearing my splint. Throughout the day Tom introduced me to different approaches to therapy, different equipment, a new confidence, and offered me to buy a copy of his unpublished book "the successful stroke survivor" which of course I did.
I left the building with my mum carrying my splint and my Dad carrying my walking stick and my god did it feel AMAZING! I now no longer use my splint or walking stick around the house and begrudgingly put it back on when I walk outside because I haven't quite plucked up the courage to walk outside without it or my walking frame something that thanks to ARNI's positive attitude I know won't be far away.
As for the book I am about a quarter of the way through it making notes as I go. I feel like I'm studying and I guess in a way I am, It has helped me to understand how stroke recovery works and why different therapies help with it. It keeps me motivated even after the shortest skim over the parts I have highlighted and helps me understand why ARNI's approach is so special, teaching you to train and strengthen your whole body not just the side affected by stroke. It also helps diminish many of the worries I had about the way I am recovering learning that 'compensatoriy stratergies' dont have to be a negative thing and can be worked with to increase strength in muscles. I also learnt that despite what I had been told, hard work doesn't mean increased muscle tone, and even after my full day with ARNI, spending hours exercising out of my splint my usually high tone was relatively relaxed.
I would definitely recommend the book and ARNI way of thinking to any stroke survivor no matter what stage of recovery you might be at. I'm sure you will find something useful from it that I have not yet found anywhere else, be it that extra push to get you out of your wheelchair, the confidence to push yourself as far as you can go or the information about equipment you never knew existed. If it wasn't for visiting ARNI there's no doubt that I would still be putting my splint on every time I wanted to walk across a room.
Becki has an excellent blog which can be accessed here.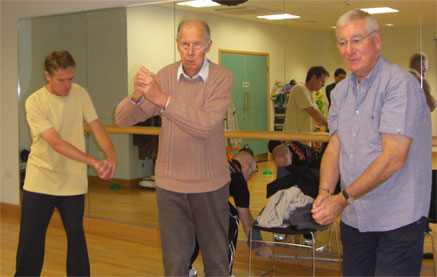 I was 81 when I had a stroke, following an episode of atrial fibrillation. I had been fit and active until then although somewhat hindered by having weak ankles and knees from having been hit by a speeding car twenty years before. Paralysed on the left side, I was taken to one of the specialist acute stroke units in greater London, where I was given a clot-busting injection, which led to some slight movement of my affected arm after a few hours. To cap it all, I developed pneumonia the next day.
After excellent care there, I was moved to the stroke unit in the hospital in our borough so that I would be eligible for local social services etc on release. The doctor who met me said that their medical staff's main role was to assist the work of the therapists in the unit. Once the pneumonia began to be under control the physiotherapist got me onto my wobbly legs – at first walking a little with a frame and after a while a stick – and pressed me to begin to move and use my left arm a little through the pain. I was also made to begin to wash and shower myself as best I could. Although I had not lost my speech, it had been affected by the stroke and, more importantly, swallowing had been impaired (perhaps the cause of the pneumonia?). This gradually improved through following the rigorous exercises of the speech therapist and meant I could after a while eat normal food instead of only puréed or, later, mashed.
Before my discharge, four weeks after the stroke, an occupational therapist came with me to my home to advise on and arrange for the provision of special chairs, and support rails in the shower and along the steep staircase. The hospital also arranged for regular visits from a community matron, who liaised with my GP over my general health and improvement as well as a physiotherapist who gave exercises and encouraged me to gradually walk further and, after a while, to stop using a stick indoors; I still used one outside as the footpaths are so uneven. It was she who put my name forward to join a group that were to have twelve weekly sessions with Tom Balchin and his colleagues as part of a research project set up by Brunel University. I went along to the first not knowing exactly what to expect, but keen to try anything that might help me improve my limited recovery.
Two things impressed me at once. First, the diversity of those in the group: in age range, range of disability (e.g. one person could hardly walk and another had difficulty speaking) and as to when they had suffered their stroke – varying from a few months to several years ago. Second, Tom's enthusiasm and directness in pushing us further than we thought we could go in gaining strength and increased mobility through the exercises he had evolved during his own recuperation from a major stroke. This positive approach and seeing what the other people were achieving were great incentives to continue his exercises at home between classes. I would come home from the first classes exhausted, but healthily so. But I had to find the balance between "pushing through the pain" and not doing too much.
By then 82, I could not pretend to work in the way of a twenty or thirty year old and my earlier accident caused by a car restricted me to some extent in what I could do, as did the onset of a hernia at the time of the later sessions. Nevertheless, my family and friends all commented on how my mobility, confidence and general strength all improved class by class. There have been minor milestones since: the first time on a train, on an escalator, driving the car. I owe so much of this improvement to Tom and his ARNI approach and, not least, the manual he wrote ('The Successful Stroke Survivor'), the clear drawings and descriptions of which remind me of the exercises and procedures he offered. I hope to be able to follow up with more such work.
Thank you ARNI.