The ARNI Institute is a UK Registered Charity: No. 1116130.
Currently in our 20th year of voluntary work, we are committed to teaching stroke and other acquired injury survivors to gain better action control. Our Approach to stroke rehabilitation is dynamic, innovative and linked directly to the very latest neurorehabilitation evidence base.
We have over 100 highly qualified independent therapists and trainers around the UK, trained via our Functional Rehabilitation & Exercise Training after Stroke Qualification. Call now to find your therapist or trainer.
ARNI supports the work of the hospital therapists by supporting YOU when your care pathway ends.
NEW! GET YOUR COPY OF NEW BOOK BY TOM BALCHIN LEARN HOW TO RECOVER OPTIMALLY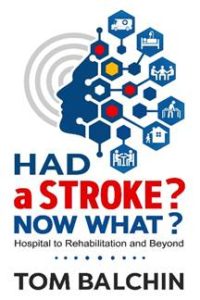 Whether you had your stroke a week or 20 years ago, this seriously practical book reveals everything you need to know about for real-life, evidence-based long-term recovery from limitations caused by stroke, that you can actually understand, use and apply successfully for yourself. With 244 pages of new information and material, it's stacked with revelations for you based on the neuro-rehabilitation evidence-base.
NEW! LISTEN TO THIS TESTIMONIAL FROM A STROKE SURVIVOR TRAINING WITH ARNI
Click the middle of this short video to listen to the experiences of a stroke survivor currently rehabilitating with the help of an a Senior ARNI Instructor. You can learn for yourself about what she has been doing in this DVD series.