The Challenge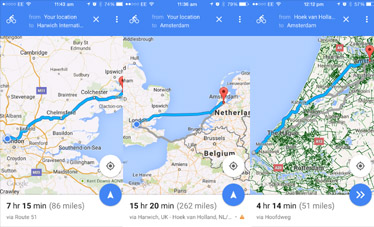 The ride from London to Amsterdam is 140 miles which will take them about 15 hours to cycle (not including if they get lost) and overnight on the ferry from Harwich to the Hoek van Holland.
And this is just one way!!!! After the return leg the group would have cycled 280 miles!! Challenges will include:
The English Weather, Hills, Seasickness, Cars, Opposite Side of the Road Riding, Cramps, Saddle Rash and lots of DOMS!!
Chris' Story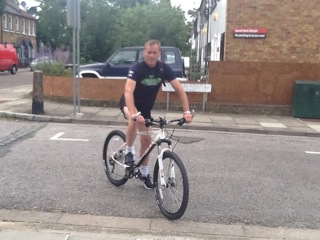 In 2008 Chris was working as a Landscape Gardner for Enfield Council and had just become a Dad when in the November he sustained a severe head injury through an unprovoked attack. Chris woke up in hospital 2 weeks later with almost full body paralysis which only improved with intense physiotherapy over the following 10 months of rehabilitation. In 2009 when he was discharged from hospital the doctors told him he would need crutches or a wheelchair to walk or travel long distances. 'Chris refused both and made the decision to walk as far as he could to help his rehabilitation.
For his first birthday after leaving hospital, Chris's Dad bought him a bike to see if this would help with the strength and coordination side of his rehab. After some mishaps and intense training, in the February of 2012 Chris did his first charity bike ride from London to Bournemouth to raise money for Cancer Research, raising over £1000! His second ride was the Isle of Wight ride in which he raised over £4000 for the Charity Noah's Ark Hospice.
In April 2014 Chris began to attend a physical rehab class run by FAABI (Friends of Attend Acquired Brain Injury) which was taken by an ARNI instructor Nadia. Over the next 18 months Chris made huge improvements physically with the training that this course provided.
Unfortunately FAABI decided not to refund the course for the following year and so Chris decided that he would embark on another Charity Ride – this time raising money for ARNI to help fund his and also his group of friend's rehab! Chris and the group realize how important the physical training is for improving their daily lives and how much of an impact it has!
Messages of Support
Go Buck, So proud of you!! Lots of love Auntie Ree and Scarlett xxdx
£50

PAID

Well done on this initiative! Best wishes from from Great Uncle Will
£10

PAID

Well done mate! And massive good luck… Scott S.
£30

PAID

Good luck guys. Regards, Cristian C
£30

PAID

Go Chris! Great cause, well done you. From Ruth E.
£20

PAID

Have a great trip Andy and Chris – you are both heroes!! From Gregory S.
£75

PAID

Fantastic…. enjoy the ride and keep inspiring! From Nina S.
£20

PAID

Good luck team! Barbara & Julian
£50

PAID

Best of luck to both Dads. Surya at Buddhist Centre.
£10

PAID

Go on chaps! From Christopher S.
£30

PAID

Good luck Chris, Ben, Steve and Andy! From Debbie B.
£100

PAID

Have a fantastic ride – great cause! From Jonathon M.
£10

PAID

Good luck Chris and the lads! from Leslie F.
£10

PAID

Wishing you all the best your intrepid four! Robert L.
£50

PAID

Good luck with it, Mike and Jo K.
£50

PAID

Donated anonymously.
£100

PAID

Best of luck, from Rudolf A.
£25

PAID

Hope the London to Amstersam goes ever so well! From Nabila J.
£10

PAID

Good luck!! Carmel M.
£20

PAID

Go for it guys! From Dr Kieran McH
£20

PAID

Good luck you four 😉 From Maurice G
£50

PAID

Have a fantastic time – hope your ride goes well, from Tanya G.
£20

PAID

Have fun lads! Excellent charity and a good cause… Nadiya B.
£50

PAID

wishing you a very safe ride, love Oksana
£20

PAID

Good luck you four! From Katrina M.
£10

PAID

Hope the fundraising ride goes well! From Kevin C..
£20

PAID

Enjoy yourselves and raise LOTS of money!

From Mike T.

£50

PAID

All The Best! Leianne
£10

PAID

Best of luck boys! From Stuart M.
£50

PAID

Good luck to you all – from John M.
£50

PAID

Chris / Andy, Good luck guys. Have a fantastic time. the Etchells
£20

PAID

Good luck!! From Ann P.
£50

PAID

Have a greaat time and hope it goes well – Wendy H
£50

PAID

All the very best to you all. Salvatore & David
£50

PAID

Well done for suppotring suche a great cause! All the best, from Christopher H.
£20

PAID

Well done you four! From John R.
£20

PAID

Best of luck guys, great cause, Andy make sure you stop Chris taking scenic photos otherwise you will be away two weeks. love Steve and Ange.
£100

PAID

Good luck! From Bridget
£30

PAID

Hope the ride goes ever so well, from Paul P
£50

PAID

Good luck to all of you! From Joan W.
£20

PAID

Wow, what a journey, well done for taking up the challenge x Debbie M
£20

PAID

Good Luck lads enjoy your ride! Barrie and Glenys R
£30

PAID

Good luck chaps! From John R
£25

PAID

Hope the fundraising goes well guys! Great charity – from Ian B.
£40

PAID

Enjoy the bike ride – hope you raise a lot of funds for ARNI. All the best, Stanley F.
£50

PAID

Go for it!! From Miles S.
£20

PAID

Superb mission for charity you've taken on there! Good luck. From Claire H
£25

PAID

Hope it all goes well! Jonathan and Karen S.
£50

PAID

Not long to go now! Hope you're training for this! From Russel T
£25

PAID

Keep being inspirational! From Kevin O.
£10

PAID

Good for you guys! From Julia S.
£10

PAID

Good luck to all of you – an excellent cause- from Angela S
£20

PAID

Have a SUPERB TIME – and don't get lost! All the best from Catherine W
£45

PAID

good luck!!! From Zuzana N
£10

PAID

Good luck guys – Will H
£10

PAID

As I said Pete, stick the bike in the Z4 and drive. Bon Voyage. Big Jim x
£28

PAID

Good Luck to the Bucks, lots of love from The Hickeys xxxxxx
£50

PAID

Good luck to all! From Simon B.
£20

PAID

Not long to go now lads! All the best, from Sean B.
£10

PAID

Good luck boys be safe, from Francis O'H
£100

PAID

Good luck to you all! From Huseyin O.
£20

PAID

Good luck, have fun and don't get lost, good work! Silas
£10

PAID

Have a fantastic ride.. from Hannah W.
£5

PAID

Have fun and best of luck – from Jacqueline K
£20

PAID

May the wind always be at your back. Frank M
£50

PAID

Good luck all of you!! From Lorna G
£20

PAID

Enjoy yourselves and raise lots for your charity – from Rachael H.
£30

PAID

Good luck! From Niall W
£25

PAID

Good Luck and all the best.. From Carina F
£20

PAID

Well done guys, a great effort for a great cause. from Neil, Claire, Cerys, Caden
£10

PAID

CLICK HERE TO MAIL YOUR SUPPORT AND PROMISE
£
CLICK HERE TO MAIL YOUR SUPPORT AND PROMISE
£
CLICK HERE TO MAIL YOUR SUPPORT AND PROMISE
£
CLICK HERE TO MAIL YOUR SUPPORT AND PROMISE
£
CLICK HERE TO MAIL YOUR SUPPORT AND PROMISE
£
More donations recieved with thanks:
£100.00 Frank O'Hare
£50.00 Colin & Jacquie Small
£25.00 Irene Stanton
£25.00 Steve Purcell
£50.00 Anonymous
£93.00 Collected from guests at Peter & Lisa's party.
£25.00 Bill & Mona
£50.00 Ian & Ev Hill
£60.00 Sue Williams
£20.00 Geoff & Amelia
£20.00 William O'Hare
£20.00 Eamonn Rogan
£50.00 Wendy from the Arsenal.
£110.00 Collected by Steve Mumford