The Challenge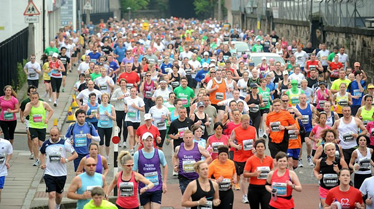 Now in its 13th year, this popular and ever-growing marathon festival takes place in Scotland's capital city with the Edinburgh Castle as its stunning backdrop. It continues through East Lothian offering stunning views and an unforgettable running experience.
With its fast and flat route, this marathon is one of the fastest in the UK so can deliver that elusive personal best for runners! Edinburgh Marathon joined the world's elite road races in 2012 by becoming the first marathon in Scotland to be officially recognised by the IAAF, the athletics governing body. The IAAF bronze label puts the race among the top 75 in the world making it a pivotal part of the sporting calendar for runners.
Neil's Story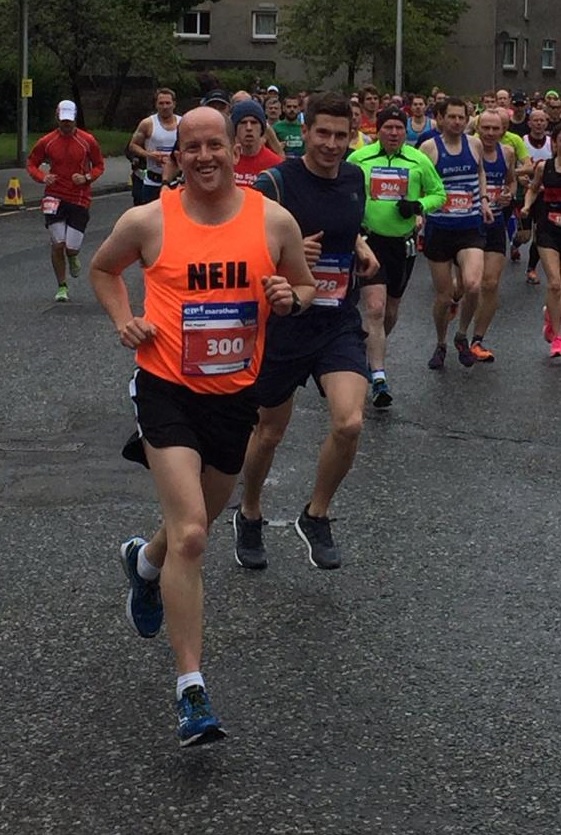 My sporting career began mainly through the world of running. starting in school and gaining a place in the local running club, competing in many races, mainly long distance at County level. I became a personal trainer 10 years ago, the focus of this work to help people to achieve their goals and support people to get a healthier lifestyle.
I found out about the ARNI Institute and felt that this was was an area that I had a passion for, continuing to support people to achieve their goals after the devastation of having a stroke and making the impossible seem possible again.
The training I have received through ARNI enables to help people walk again, get up and down off the floor without the fear of falling, to move their fingers and so much more and this is usually something that a stroke survivor gets told they will never be able to do.
It has been a pleasure to help stroke survivors rehabilitate, to achieve their goals and support them to face their challenges over the last 2 years and feel their are many more years that i will continue to carry out this good work.
This is one of the best things I have done in my life.
Messages of Support
NEWSFLASH!! Neil finished the Marathon with a time of 3hrs, 18 minutes, ranking 470th out of 17,000 people…
CONGRATULATIONS NEIL!!
I pledge £30. A great cause and I'm extremely proud of you Neil!
£26

PAID

Very proud of you Neil… good luck with the Edinburgh marathon! I will be cheering you all the way 😉 Lucy
£26

PAID

Rather you than me. You have trained so hard so should be a piece of cake!
Good luck Neil.
£10

PAID

Wishing you every success in the marathon, but the main thing is raising money for an amazing charity. So proud of you Neil for the amazing things you have achieved to help others. Will be an emotional day!
Will be supporting you all the way.
Love, Mum & Dad xxxx
£100

PAID

Go Neil!! From Chris.
£30

PAID

Go luck Neil!! From Beverley S.
£50

PAID

Good luck mate! Not that you need it after all the hills! Kyle
£10

PAID

£50 for a very worthy cause – we will all be thinking of you!!Love Lee, Jen, Libby and Will xxx
£50

PAID

Good luck Neil. Donation made in loving memory of my inspirational Nanna, Eileen Molly Ridgewell. Love from Laura (nee Franks), Paul, Joshua, Emily and imminent Baby Butterworth xxx
£50

PAID

Massive good luck for your run Neil! Well done for working and running for such a good cause! All the best, Mike F.
£50

PAID

Go Neil!! Thanks so much for helping stroke survivors! From Mark L
£5

PAID

Good luck for your run Neil!! From ARNI Instructor Steve M
£10

PAID

Go for it Neil! From fellow ARNI Instructor Mat H 😉
£20

PAID

Enjoy the run Neil – you'll nail it!! Love from Gwen
£20

PAID

Good luck hope you ache as much as I do after my PT sessions!!
£10

PAID

Massive good luck for the day Neil – very close now!! From Joanne
£20

PAID

You're brilliant Neil – thanks for all the work you do for stroke survivors.. Angela, Alex and all the family
£10

PAID

You did it Neil! Smashed it! Well done you!!! All the best from Caroline
£27.50

PAID

Massive well done Neil! Your placing in the run is brilliant – love the pics! Elaine
£10

PAID

Collected by Neil in cash from various kind friends – thank you Neil!!
£80

PAID

Further collected by Neil from various kind friends and sent by paypal – thank you Neil!!
£39

PAID

CLICK HERE TO MAIL YOUR SUPPORT AND PROMISE
£
CLICK HERE TO MAIL YOUR SUPPORT AND PROMISE
£
CLICK HERE TO MAIL YOUR SUPPORT AND PROMISE
£
CLICK HERE TO MAIL YOUR SUPPORT AND PROMISE
£
CLICK HERE TO MAIL YOUR SUPPORT AND PROMISE
£
CLICK HERE TO MAIL YOUR SUPPORT AND PROMISE
£
CLICK HERE TO MAIL YOUR SUPPORT AND PROMISE
£
CLICK HERE TO MAIL YOUR SUPPORT AND PROMISE
£
CLICK HERE TO MAIL YOUR SUPPORT AND PROMISE
£
CLICK HERE TO MAIL YOUR SUPPORT AND PROMISE
£
CLICK HERE TO MAIL YOUR SUPPORT AND PROMISE
£
CLICK HERE TO MAIL YOUR SUPPORT AND PROMISE
£
CLICK HERE TO MAIL YOUR SUPPORT AND PROMISE
£
CLICK HERE TO MAIL YOUR SUPPORT AND PROMISE
£
CLICK HERE TO MAIL YOUR SUPPORT AND PROMISE
£
CLICK HERE TO MAIL YOUR SUPPORT AND PROMISE
£
CLICK HERE TO MAIL YOUR SUPPORT AND PROMISE
£
CLICK HERE TO MAIL YOUR SUPPORT AND PROMISE
£
CLICK HERE TO MAIL YOUR SUPPORT AND PROMISE
£
CLICK HERE TO MAIL YOUR SUPPORT AND PROMISE
£
CLICK HERE TO MAIL YOUR SUPPORT AND PROMISE
£
CLICK HERE TO MAIL YOUR SUPPORT AND PROMISE
£
CLICK HERE TO MAIL YOUR SUPPORT AND PROMISE
£
CLICK HERE TO MAIL YOUR SUPPORT AND PROMISE
£
CLICK HERE TO MAIL YOUR SUPPORT AND PROMISE
£
CLICK HERE TO MAIL YOUR SUPPORT AND PROMISE
£
CLICK HERE TO MAIL YOUR SUPPORT AND PROMISE
£