The Challenge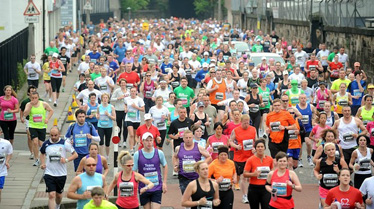 CHALLENGE 1: Birmingham is hosting another half marathon in the city. Competitors from across the UK and around the world will be taking part in the 13.1 mile course with thousands of supporters expected to turn out for the event. The course takes in some of the city's most iconic sights including the Bullring, the Cadbury World in Bournville and Edgbaston cricket ground.The elite runners will start just after 10am, with waves of runners having a staggered start after that.
Sarah's Story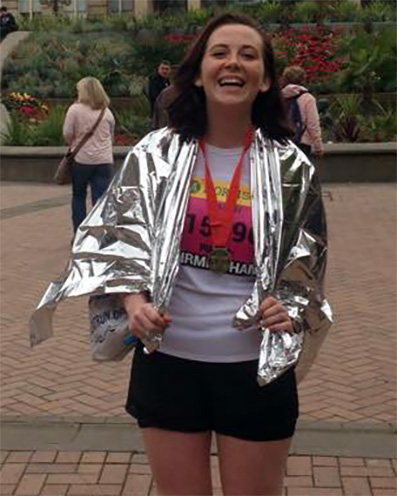 In January 2013 Dad suffered a major brain injury. He had to undergo emergency brain surgery, removing half of his skull plate and part of his brain to reduce the pressure due to the swelling caused by the stroke.
We were told by doctors that the future for Dad wasn't promising, and he was exceptionally lucky to be alive.
He spent the next 11 months in hospital, undergoing extensive rehabilitation. There were highs and lows over these months.
At stages we were only given bad news: that Dad would never be able to walk again, or be independent, with the lowest point being when we were told that he would need long term 24/7 care.
However, with an exceptionally determined, and wonderful Mum, we decided that wasn't right. We pushed for better care; this meant that the last four months of Dad's time in hospital were spent in a specialist rehabilitation centre. Unfortunately, this was two hours from where we live so we were only able to see Dad on weekends, which was particularly tough on all of us.
Nevertheless, Dad began to walk again, and relearn skills meaning he could gain independence and move back home.
In December 2013 Dad came home, the best Christmas present a girl could ask for. In March 2014 Dad had further surgery to replace the skull, which went swimmingly and meant he was a little further along his long road to recovery.
These last few years Dad has made incredible strives in his recovery. Thanks to my incredible family (ever so modest), we're closer than ever, and have been, and continue to be great at supporting each other through it all.
Unfortunately, in the middle of August this year we noticed that one of the screws had come loose from his new skull. Dad was taken into hospital in Oxford where they realised that the skull plate had become infected, meaning he had to undergo another surgery to remove the skull and the infection. The following few days were hell for us all. Dad was extremely disorientated and we didn't know if we were back to square one, or even what the future would hold. However, true to form Dad pulled through, and a week later, and with only half a skull, he was once more, proudly, exclaiming that he was the fairest of them all.
Dad will of course have to undergo another brain surgery in a few months to replace the skull, but we've decided, as a ..
family, that that's enough brain surgeries for a life time. Hopefully soon we'll be getting back to our new normal and being the fabulous family that we are.
Throughout this all, ARNI (Action for Rehabilitation from Neurological Injury) have provided my Dad with unwavering support. What makes ARNI unique as a charity is the personal way in which they offer support to those affected by brain injuries. ARNI also challenge preconceived ideas about brain injury, helping to empower those that they help.
Messages of Support