The Challenge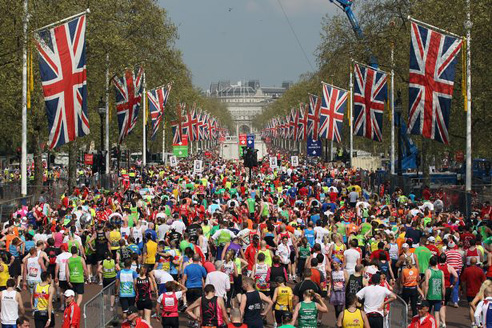 The London Marathon (also known as the Virgin Money London Marathon) is a long-distance running event held in London, United Kingdom and is the third largest running event in the UK, after the Great North Run from Newcastle upon Tyne to South Shields and the Great Manchester Run 10,000 metre run around central Manchester, and it is also part of the World Marathon Majors.
The event was first run on 29 March 1981 and has been held in the spring of every year since. Since 2010, the race has been sponsored by Virgin Money, and is known as the Virgin Money London Marathon. The 34th London Marathon took place on 13 April 2014, and the 35th London Marathon is scheduled for 26 April 2015.
Teddy's Story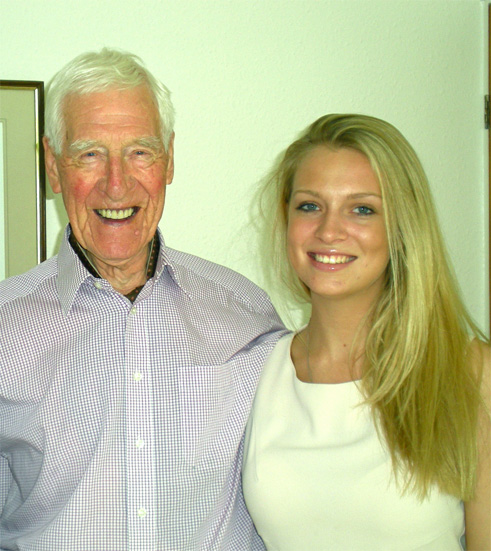 I've always kept fit and have enjoyed running for a number of years. I have taken on a few 10ks and half marathons and really enjoy the sense of achievement after a race. I find training and particularly running can help clear your mind and headspace.

A marathon has always been on my hit list of things to do however I appreciate how dedicated you need to be to fit in the time and miles. It really cuts into your everyday life, it's not just your average trip to the gym if you want to do it properly. I was lucky enough to get a place in the ballot for this year's London Marathon and am absolutely thrilled to be able to raise money and awareness of ARNI.
MY WONDERFUL GRANDPA

During the past 8 months my Grandpa unfortunately suffered 2 strokes. He was charismatic and lived his 92 years with a sense of wonder and positive gratefulness. He took up golf at the age of 86, went on a cruise on his own at 91 & even rode on a camel.
As a result of his first stroke he lost the use of his right hand and leg. He had never had to stay in hospital and had been living life to the full, he was even out on the golf course a couple of days before. After 8 weeks in hospital he was able to return 'not quite home' but to a home.

The information and support ARNI provided was so valuable. My Mum and Aunt were so impressed with the ARNI 'way' of consistent repetitive movement. One of them was always with Grandpa encouraging him to keep moving. By October Grandpa was back to fine finger movements and he could sign his name again. We even videoed him practising his golf swing so he could see how much he was improving.
Messages of Support
Go Teddy! We are so proud of you… from Chris G.
£20

PAID

Keep training hard – and enjoy the run Teddy! From Lucy
£20

PAID

Good luck with the run, Teddy. Grandpa Don would be so proud of you. Love from Julie and Jim Bedigan
£20

PAID

I'm so proud of you… love from Christopher
£50

PAID

Have a great marathon, Grandpa would be proud you are supporting ARNI and would have loved to be in London to cheer you on! Paula & Dave
£132

PAID

Enjoy making magnificent marathon memories.

Love M X

£260.20

PAID

Well done Teddy – Don would have been so proud of you! Alex and Malcolm.
£20

PAID

Good luck Teddy. It's a great cause – enjoy your run!
Lisa & Joe (friends with Paula & Dave) X
£20

PAID

Go for it Teddy – your Grandpa would be so proud.. from Alexandra
£20

PAID

You are raising funds for a great cause Teddy – hope the run goes ever so well.. Joanna Lambie
£10

PAID

Good Luck Ted. I'm very proud that you are supporting such a worthy charity in Dad's memory.
Hope you have a great run! Mike
£10

PAID

Go Teddy – do us all proud!! From Mohammad Aslam
£20

PAID

Good luck Teddy, i hope you raise lots of money for a fantastic cause! Gem xx
£10

PAID

Superb thing to be doing in memory of your Grandpa, Teddy! Love from Amanda 😉
£30

PAID

Go Teddy!! We;ll be cheering you on! From Laura
£10

PAID

Hope it all goes well tomorrow!!! from Edward Capel
£15

PAID

GOOD LUCK TEDS! Love Tamara & Camilla XXX
£25

PAID

GOOD LUCK TEDDY! Your Grandpa would be so proud of you! Love the Sapers xxxxx
£50

PAID

Go for it Teddy!! Make us all proud 😉 Phil S
£20

PAID

Go Teddy go! So much good luck for the big day today! You're going to smash it! From Polly
£10

PAID

Masssive good luck for today Teddy!!! From Sarah B.
£10

PAID

Hope your run goes incredibly well today Teddy!! From Edwina
£10

PAID

Massive congratulations on your run Teddy!! From Spencer
£15

PAID

Well done Teddy!! You did everyone proud! From Matthew H.
£20

PAID

Superb effort and magnificent time Teddy!!! Emily H
£10

PAID

Amazing run – well done Teddy!! From David W
£20

PAID

Magnificent Teddy and well done raising money for ARNI and stroke rehab – a fantastic cause.. from Sophie
£10

PAID

He would have been delighted and very proud of you. Love and Best Wishes, Bill & Lesley Gover
£40

PAID

Huge congratulations Teddy! From Nick D.
£10

PAID

Well done Teddy!! From Rosie
£10

PAID

Congraulations Teddy on an excellent time!! Super cause too.. from Josh
£10

PAID

Superb Teddy – what a wonderful thing to do – your Grandpa would be so proud… from Jack
£10

PAID

Massive well done to you Teddy – your Grandpa would be extremely proud… from Aime
£15

PAID

Great run Teddy! Good for you! Love from Caroline
£20

PAID

CLICK HERE TO MAIL YOUR SUPPORT AND PROMISE
£
CLICK HERE TO MAIL YOUR SUPPORT AND PROMISE
£
CLICK HERE TO MAIL YOUR SUPPORT AND PROMISE
£
CLICK HERE TO MAIL YOUR SUPPORT AND PROMISE
£
CLICK HERE TO MAIL YOUR SUPPORT AND PROMISE
£
CLICK HERE TO MAIL YOUR SUPPORT AND PROMISE
£
CLICK HERE TO MAIL YOUR SUPPORT AND PROMISE
£
CLICK HERE TO MAIL YOUR SUPPORT AND PROMISE
£