1. Justin:
As requested Course Feedback:
I want anyone reading these words to be encouraged to do the ARNI course for these reasons:
It's hard work. But if you are going to work with stroke folk, they're going to be working even harder than you the instructor.
The course gives you an academic and research orientated foundation from which to 'hang' the practical and effective ARNI approach.
The ARNI approach is a big part of the way ahead for stroke survivors as it encourages the survivor into self management and self efficacy.
The course structure (balance between hands on and theory lectures), course materials (course handbook, DVDs, ARNI Manual), environment (Lingfield and Institue of Neurology), and structured home work (USB stick with articles to read, your own real life case study) are spot on. It all adds up to a well rounded package which prepares you to be confident about working on your own in the community, doing good work with stroke survivors.
But the magic ingredient is not the reliance on cake (go on the course to find out more) but the charismatic leadership of Tom. I've been a Royal Marine for nearly 30 years and can tell you that he displays the Commando ethos: courage, determination, unselfishness and cheerfulness in the face of adversity. Tom leads by this example and demands the most from you for the benefit of stroke survivors.
It may be hard work, but it's also very good fun. Just do it!
2. Paul
Firstly, let me personally thank Tom for this course which was comprehensive, interesting and practical. Although short it was deep enough to understand the essentials of functional stroke rehabilitation and exercises for task orientated training. Meeting with real stroke survivors helped me to gain very practical skills together with a wide theoretical content.
Course manual is very useful guide for every trainer or therapist wishing to work in a functional stroke rehabilitation. It has plenty of pictures and explanations for ARNI approach techniques which allow students to grasp it very easily.
I especially enjoyed compulsory workshop at the Institute of Neurology with leading research lecturers. They explained me in a depth and gave guidelines for further investigation subjects of neuroplasticity, clinical rehabilitation, community rehabilitation, upper limb rehabilitation, speech and language limitations after stroke, fatigue after stroke, cognition and behaviour after stroke.
This FRETS Qualification course was the right development choice for me and moved me from exercise and fitness professional level to functional stroke rehabilitation specialist grade. It has armed me with all necessary skills, knowledge and confidence to start independent work with stroke survivors in my community.
3. Diane
As a registered nurse / exercise instructor working in the community with older people and people with chronic health conditions which include stroke, I thought that the ARNI course would be a valuable addition to my qualifications and that it would provide knowledge and skills that would improve my ability to work with stroke victims.
About the Course
Although the course costs the same as other Level 4 courses in teaching exercise, when I made the first enquiry I thought that the cost of the course plus accommodation and travel would prohibit me from attending. However, the ARNI Institute and Tom Balchin in particular, were so supportive and made it possible for me to attend for which I am truly very grateful.
When we arrived in the class room on the first day the course objectives were clearly presented and what was required of students during the course was clearly explained. The written resources mainly consisted of Tom Balchin's book 'The Successful Stroke Survivor' which was purchased prior to attending the course. We were also provided with an informative and clearly presented course manual, handouts containing PowerPoint presentations and information about the assessments. We were also provided with a memory stick which contained a number of research papers on a wide range of issues associated with stroke rehabilitation; these were very informative. Each individual on the course was able to study at a level that was suitable to meet their needs, some preferring to study in depth and others finding that a less intellectually challenging level was sufficient.
A range of rehabilitation aids were also provided for inspection and trial, for example, small household items and toys that could be used to improve fine motor control of the hand, exercise weights to improve muscle strength and endurance, non-slip mats that were used in the practical sessions to assess and work on walking, balance and the ability to get down onto the floor and up again without using support etc.
The course included attendance at a two day conference for physiotherapists and occupational therapists: the 4th Annual Queen Square Upper Limb Neurorehabilitation Course 'Treating Patients With Upper Limb Deficit: Integrating Research Into Practice'. The two days presented the findings of research addressing upper limb rehabilitation following stroke. We were also provided with links to the online learning platform – Stroke Competencies for Health and Social Care Staff which was also very informative.
During the contact days much of the time was concerned with the practical details of working with a stroke survivor and teaching the exercises and coping strategies outlined in the Successful Stroke Survivor book. The visits and talks given by stroke survivors were valuable additions to the course particularly having the opportunity to talk and work with them one-to-one.
About the Instructor
Tom Balchin, the course tutor, is the Founder and Director of The ARNI Institute and is a stroke survivor himself, consequently, having been through the process of stroke rehabilitation, he was able to speak with confidence about all that he had learned during the process. He is committed to helping stroke survivors who have been discharged from the NHS rehabilitation programme to work towards regaining as much functional ability as possible; this has been through the provision of the Successful Stroke Survivor book and by training as many ARNI instructors as possible. He is a very approachable, friendly person who does all he can to help candidates on the ARNI course to be successful.
Dr Balchin always arrived in good time on the training days so that he could set up the room and equipment prior to our arrival. He was always willing to answer questions throughout the course and was always willing to answer emails about concerns we might have. He regularly sent emails with updates throughout the course. Dr Balchin fully informed us of the assessment processes and pass marks and advised about future use of the qualification, including the fact that credits may be used towards a unit of the Oxford Brooks University MSc degree. He was able to provide candidates with a stroke victim for the final practical assessment and following case study which was a valuable experience for candidates on the course.
4. Naunihal
Please see below my course feedback:
I'll start with the customary feedback with regards to the Organisation of the training course, Relevance of the training, Course material, Support, Style/Atmosphere and Delivery of course content; Every aspect of the ARNI FRETS course was EXCELLENT, from the first day to the final submission of my work, I felt that, one -this was an exceptionally well-constructed and applicable course which was not only research based but also 'pavement' tested by the course producer and instructor, and secondly that the instructor as well as my colleagues on the course created a very conducive learning environment. The initial gaining of the ARNI FRETS qualification is only the beginning, as research advances, so will our way of delivering the best re-training to Stroke people. That is why CPD is vital in regularly maintaining and updating our skills – it is the only way we can deliver the best support for Stroke people.
I'd like to say 'THANK YOU' to Dr Tom Balchin for being an excellent instructor, who has an effective, engaging style that allows his students to challenge themselves and learn. The course was delivered by utilising all the main sensory receivers Visual, Auditory and Kinesthetic, which appealed to my way of learning; since my own Stroke I have struggled to find my primary learning sense, with classroom sessions (both seated learning as well as practical) the ARNI FRETS course made it easier for me to learn and then deliver support and autonomy to Stroke people. The use of real Stroke people added to our learning. I appreciate how the training was relevant with the latest research as well as 'real-life' seasoned procedures– it's all well and good what researchers write about but if the research is not relevant to the general stroke survivors, then it is just research. I like the way ARNI utilises all the research and uses what is relevant to each survivor, to improve their quality of life – as one thing may work for one survivor, whilst it may need to be tweaked or changed for someone else – That's why I think ARNI is affective for all stroke survivors.
My peers on the course were fantastic – there was humour whilst learning and an underlying respect for the trauma that stroke survivors have gone through.
The stroke survivors that allowed us to practice our learning were stars – I really appreciated their being there.
Your ARNI Associate Instructors I met on the course were approachable, supportive and knowledgeable.
I am looking forward to becoming an ARNI Associate Instructor and putting the techniques that I have learnt into practice.
A quick note on how I feel the course could be enhanced:
With the advances in technology, I believe mobile applications would greatly enrich the understanding and participation of stroke people, as well as students. You would also reach more stroke people and create a better understanding of what ARNI has to offer.
An awareness campaign, again on the internet would be inexpensive and promote ARNI strategies. I would personally like to become an ARNI Ambassador at Stroke Events to promote the aftercare that ARNI offers.
The above are only my suggestions as part of my review. I understand that everything has a cost associated with it and that maybe some of the above ideas have already been considered.
In conclusion, the ARNI FRETS course is a practical, research based and established program that has been designed and refined by a Stroke survivor who just wants to help retrain others to better live their lives after their Stroke. Everyone responds to their Stroke with the best information available at the time – "Even when you stop the world around you keeps moving on", I strongly believe that Dr Tom Balchin want to help ALL Stroke survivors better their lives and keep moving after their Stroke.
5. Scott:
I am a personal trainer / strength & conditioning coach that has spent a number of years working under private physiotherapists as part of their community rehabilitation team. I found working with stroke survivors extremely rewarding and wanted to improve my knowledge of the subject and the effectiveness of the service I offered.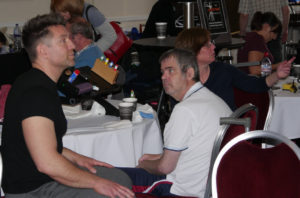 ARNI Institute's functional rehabilitation and exercise training after stroke qualification was recommended to me by a physio friend of mine. I was immediately impressed by the detailed course description on their website and reassured by the fact that they limited the numbers on the course to maintain a high level of service.
Course days are led by Dr Tom Balchin who is warm, welcoming, witty (ish!) and an absolute expert in stroke rehabilitation. As a stroke survivor himself he has personally overcome adversity to achieve an incredible level of function. He is the course and his stroke survivor manual is a blueprint of how to improve every possible issue facing stroke survivors. The practical & visual learning of the course days suited me perfectly and the opportunity to interact and work with a number of stroke survivors arranged by ARNI as part of the course was invaluable. This was all backed up by interactive online modules to help our learning of this complex subject.
Dr Tom was calm and relaxed throughout the process telling us what we needed to learn & when to be prepared for each upcoming stage. He was quick to reply to any questions and kept us updated with regular emails.
I am proud to say that I passed with an A and am looking forward to working and further learning with Dr Tom and ARNI in the future.