Here will be listed any useful items stroke survivors would like to pass on or sell to other stroke survivors.
ALL SALES RESULTING FROM EXPOSURE ON THIS CHARITABLE WEBSITE ARE STRICTLY BETWEEN SELLER AND BUYER. THE ARNI INSTITUTE WILL BEAR NO RESPONSIBILITY OR LIABILITY FOR ANY ACTION TAKEN BY ANY PARTIES NOR WILL IT ACCEPT ANY FINANCIAL REWARD FOR PLACING ANY ITEM FOR SALE HERE. EACH ITEM IS ADVISED BY DECISION OF THE ARNI TRUSTEES FOR APPLICABILITY AND SUITABILITY BEFORE IT APPEARS ON THIS SITE.
If you would like something to appear here, please email us for details of how to submit.
Pride Jazzy Select 6 Power Chair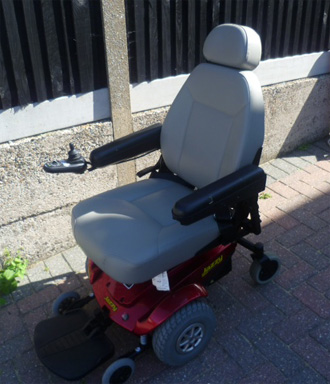 Bought in 2012 with only 3 miles of use.
The ARNI Approach has got me off needing it!
It has had little use since then. We have just purchased new batteries and it can be viewed in Deal in Kent.
It is in good condition, with a tiny nick on the back of the seat. It comes with a sturdy ramp that we bought for just over £300.
If you have any questions contact me on petercorfield3@gmail.com. Buyer collects please.