Have YOU got aphasia?
If so, ARNI Speech and Language Therapy (SLT) can now help YOU, right now, wherever you are in the world.
Do you find it hard or impossible to say what you're thinking (expressive) or understand the spoken word (receptive)? If so, you're probably finding that the degree of your communication deficit is, right now, having a significant impact on the success of your overall recovery.
The latest evidence-base shows clearly that you can conquer aphasia very successfully with the help of speech and language therapy.
The evidence shows that SLT by Zoom is just as effective as in-person, face to face treatment!
Furthermore, the one to one SLT delivery in-home via Zoom mode shows comparable (high) visit satisfaction scores as the SLT in-home mode.
The ARNI SLT Telerehab Service:
We have a team of highly experienced specialist SLTs (all post-grads from Universities such as UCL, the University of Cape Town etc) who are available to help you right now.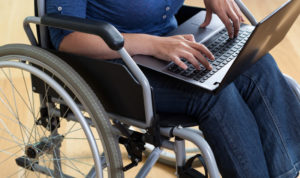 Finding a Speech and Language therapist after discharge is notoriously difficult and SLTs are almost exclusively clinical and/or have big case-loads to take care of. And we know that SLT is often prohibitively expensive to engage with or just unaffordable, meaning people just get incredibly frustrated.
This is why, after so many hundreds of requests over the years, ARNI has added SLT to its service list.
You get a one to one hourly service, based around your diary needs, from the convenience of your own home, with a highly experienced specialist speech and language therapist who costs just £53 an hour! You're not paying for a clinic's overheads or a therapist's petrol.
The Evidence: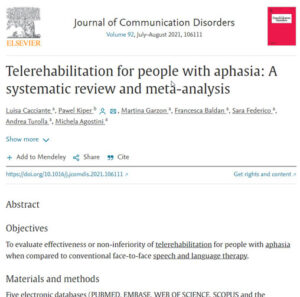 Click the paper below to read a summary of comprehensive meta-analysis of reviews, for instance, from 2021.
'To evaluate effectiveness or non-inferiority of telerehabilitation for people with aphasia when compared to conventional face-to-face speech and language therapy, five electronic databases (PUBMED, EMBASE, WEB OF SCIENCE, SCOPUS and the Cochrane Library) were searched'.
'Out of a total of 1157 records, results revealed that telerehabilitation and face-to-face speech and language treatment are comparable… with respect to the gains achieved in auditory comprehension, naming accuracy, aphasia quotient, generalization and functional communication skills'.
Importantly, 'The analysis of the results suggest that telerehabilitation training for aphasia seems to be as effective as the conventional face-to-face treatment'.
Heading up the ARNI SLT Telerehab service are: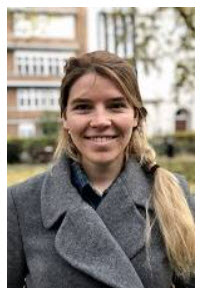 Storm Anderson, a UK-based speech and language therapist who has predominately treated adults affected by stroke and other acquired brain injury in acute hospital settings as well as out-patient and home-based settings. She has completed her BSc in Speech Language Pathology and MSc in Stroke Medicine, and is currently undertaking her PhD at Queen Square, UCL, using the PLORAS (Predicting Language Outcomes After Stroke) datasets.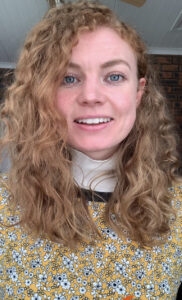 Olivia Hodgkinson, a Johannesburg-based qualified Speech Language therapist who completed her BSc and MSc in Speech and Language Pathology at Cape Town University. She has substantial experience in both clinical (acute, sub-acute, specialised rehab and extended units) and educational settings. who has worked within highly diverse settings and within multidisciplinary teams and units. She has led and run therapy departments, supervised and mentored speech therapy university students, developed school based educational assessment programs and support structures for specialised learning units, initiated and implemented training for staff, allied professionals, family and caregivers on a variety of scope related topics in school, hospital and community based settings. She has strong dysphagia experience and skills and is a certified Vital-stim practitioner. She has a great passion for adult neurological injuries and disorders, voice disorders and dysphagia and is looking forward to helping you!
For more Info & How to Apply:
Ring ARNI Support Team now on 0203 053 0111 or write to us in the Contact Box by clicking this page
'Mum had severe aphasia after suffering a dense stroke which has also left her unable to walk, with her right side paralysed. We were terribly disappointed by the lack of therapy she received to date and we recognised we needed to seek another way to get therapy for her speech rehabilitation needs. Mum's aphasia was mostly expressive difficulty (her understanding is very good) and she had a range of recognisable phrases and words but these couldn't be used 'on demand' easily or at all. We were recommended to ARNI's innovative remote SLT service which continues to amazing! She's nearly back to herself again, which has brought her life back again.' – Sue