Stroke is the commonest cause of physical disability in the world and although there are many excellent services to help stroke survivors, there is no doubt that the continuation of practice and exercise programmes is invaluable in enhancing recovery.
This is important because neuroimaging studies tell us that the brain is a plastic organ. In other words the brain's structure, the way it is organised, and the way it functions can be influenced by practice and learning. This is the basis for at least some of the recovery that occurs after stroke. A major problem often encountered is that stroke survivors are not sure what exercises they can usefully or safely perform.
The secret is that 're-training' rather than 'therapy' is the zone you need to think about now.
Did you know that what we call 'task-oriented' exercise programmes are the most promising? If not, you'll get to love the effects of task-related training IF YOU CAN PROVIDE ENOUGH DOSAGE. By this I mean 'time on task'… targeted repetition… drives plastic change by strengthening connections. Each rep you do counts.
Enhancing upper limb function is often an essential component of rehabilitation. Weakness in upper-limb musculature could impair stabilisation of proximal arm segments, limit reaching ability, confine hand usage, and affect upper-limb control and coordination. These factors have a direct effect on the use of the paretic (weaker) upper limb in daily activities, supporting the importance of paretic upper-limb strength.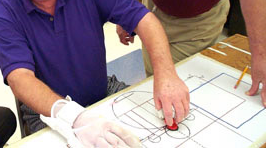 Low grip strength in the stroke population can and should be corrected via strength training since grip strength is also a predictor of disability and mortality in older adults. This is why ARNI has, since inception 17 years ago, concentrated on task-training, strength training and the appropriate development of physical coping skills. We've done the same thing ever since.
The evidence base right now supports these THREE components that form of backbone of ARNI type training over all others – principles which training can be based around. In a post further on down the line I'll show you what kinds of 'interventions' (those that operate concurrently with an effective dialled-in training programme) hold the most promise too, and that you should explore. It's the best time in history to be a stroke survivor!