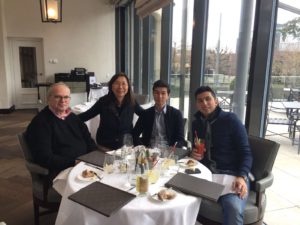 I am Swiss, 53 year old and I am a stroke survivor recently back home after a long rehab hospitalization. My stroke occurred a year ago, yielding into a left side hemiplegia. I currently have ambulatory physiotherapy therapy twice a week. Returning home a few months ago, I found it insufficient to continue on a suitable rehab trajectory. Surfing the web, I observed my issue was a pretty common problem for many stroke survivors. While I did not find programs to help me locally, I was intrigued by ARNI, a British charity helping stroke survivors better coping with the "return home" syndrome. We bought Tom's book. With my wife, who is very involved in my home rehab programs, we read the book and felt encouraged by ARNI perspectives, programs and results, described by Tom. I told her, why don't we go to England to follow a ARNI practical experience? London is a just a flight away from where we live in Switzerland.
We contacted Tom on what could be done. Tom was very responsive and showed a kind interest to design a crash course around our needs, which consisted in a day training in Lingfield and another day in London. In two days, we got a download of all the experience of senior ARNI trainers. This was terrific. We enjoyed it fully and we gathered a lot of practical and relevant techniques to bring back home. I was pushed to limits I believe I could never reach. The ARNI approach, based on repeatable tasks requiring few affordable tools, is quite easy to understand and implement in home setting. Besides the learning, the enthusiasm and the drive of the ARNI trainers, some of them stroke survivors, were contagious giving HOPE and WILL to boost my training.
We have now three months of home practice and while we can still improve on the discipline, we can see some visible first results most notably with increased mobility of fingers, leg, and arm of my "sleepy" side. Even if you are not England based, ARNI approach and techniques can easily become your routine using the videos, books and other materials or by complementing them with a trip to England. If you find rehab tough and annoying, you are not the only one (I am often ready to give up), give a try to ARNI, you will soon see tangible results.
Eric Le Royer