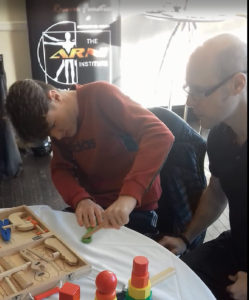 Our 16-year-old son had a stroke in January, leaving him with weakness in the left side and other associated difficulties such as fatigue. Being a very active and sporty young man, he has been extremely keen to regain as much function as possible in both upper and lower limbs. He had excellent neurological rehabilitation in King's College Hospital, an intensive and effective upper limb programme at Queen Square, and follow-on occupational and therapy for the few months following discharge, but the key to his future development is undoubtedly ARNI.
It was clear that where hospital and local community resources trail off, there is still a huge need for functional rehabilitation and from our very first contact with Dr Tom Balchin in August, we have been convinced that the ARNI programme fits the bill for Harry.
What is so special about the ARNI approach? Firstly, the quality of personal engagement and the depth of expertise Tom and his trainers bring to stroke survivors meant that Harry saw the motivation needed from the very outset. Work on wrist rotation, stretching exercises targeting the thumb and fingers have already enabled Harry to pick up, transfer and place small objects. Tom seemed to understand Harry and where his motivation lies.
On our second visit to Lingfield, a full day was devoted to a variety of activities, discussing the history of the stroke, current medical situation and identifying key areas for strengthening. The benefits of further specific training were outlined after his balance was tested, and further techniques to mobilise the upper limb were practised. We were also shown a range of "kit" and appropriate strategies and literature to help to vary the repetitions that speed recovery.
Most importantly perhaps, we are enormously grateful for Tom's generosity and the inspirational guidance, both physical and psychological, that he gave to Harry, and I know he is doing the same for many others. He is pointing a way forward tailored to Harry's needs and abilities, that involves self-directed exercise and functional practice. He buoyed Harry with personal insights drawn from his own experience and was extremely encouraging about his potential for recovery.
We feel very fortunate to have discovered ARNI and privileged to have the support of Dr Tom Balchin and his team.
Jonathan, Roz and Harry Baker