Transcranial direct current stimulation (tDCS) uses a constant, low electrical current to stimulate a targeted region of your brain. This is performed via surface electrodes placed on the scalp.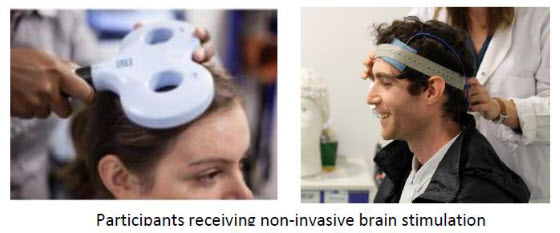 A note for ARNI blog readers: this kind of neuromodulation technology is mostly only accessible during in-patient or out-patient rehabilitation. Clinicians don't encourage 'do-it-yourself' use of tDCS. Even if you find it possible to gain access to similar devices with the intention of applying the stimulation design of published studies, this is inadvisable and dangerous because improper use might cause harm.
Clinically, there is moderate quality evidence of benefit on upper limb impairment, as compared to placebo or control, and there is high quality evidence that it's not harmful. There exists strong evidence that it does not improve gait or balance when compared to sham stimulation.
Although tDCS could be provided for stroke patients (for example before or during upper limb task-practice to try to boost neuroplasticity, coupled with novel technologies like robot-assisted training), its added value to rehabilitation outcomes has been limited so far due to lack of adequately-powered research.
So, our colleagues at the Institute of Neurology, UCL have been exploring the issue of tDCS to improve the evidence for potential for improved upper limb outcomes via their ReCAPS Study.

ReCAPS: Re-opening the critical period for plasticity after stroke. This study is funded by Brain Research UK (BRUK).
(ReCAPS is a research study at the moment, not a clinical trial or free therapy).
This study has now re-opened with extensive COVID-safety measures in place.
OPEN TO RECRUITMENT! You may be able to take part if:
You have experienced a stroke which affected the movement of your arm or hand.
You have not experienced a stroke.

The UCL team wants to know:
How brain activity changes after someone has a stroke.
If weak, non-invasive brain stimulation could encourage the brain into a pattern of activity which is useful for upper limb rehabilitation.
You will need to have an MRI scan and attend 2 study sessions at the UCL institute of Neurology.
During sessions, you will watch a nature documentary while having very weak brain stimulation. Brain stimulation feels like a warm, tingling sensation on your head.
Please contact one of the team for more information:
Kirsten Thomas: kirsten.thomas.19@ucl.ac.uk
Jenny Lee: Jenny.lee@ucl.ac.uk
Carys Evans: Carys.evans@ucl.ac.uk
—————————————

Tel: 0203 4488 774