All therapists know what a challenge it is to try and help patients gain further action control of the more-affected upper limb. For ultra-effective upper limb training, get your task-specific training board shown here in conjunction with stretching before and after each grasp and release sequence.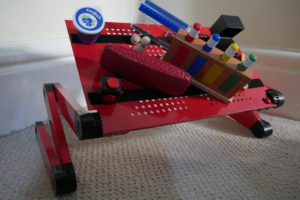 If you or your loved one has upper limb limitations, this can be an excellent way to 'increase the dosage' of repetitions.
As Professor Nick Ward at the Institute of Neurology points out continually, in his and his team's efforts to get stroke survivors to do more to engage the upper limb, ramping up the amount of grasp and release efforts performed daily may be most likely to increase neuroplasticity and accelerate recovery.
At last, available to you is the Upper Limb Task-Training board, as described in Successful Stroke Survivor and accompanying DVDs.
An innovative and simple idea created by Dr Tom Balchin which has helped thousands of survivors around the world since 2011, is now standardised here for you with his ideas of optimal content.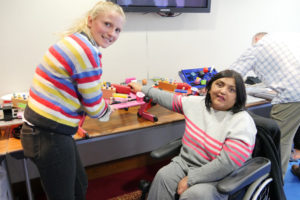 Red, Pink or Silver: choose your colour for a Christmas gift to yourself or another!
Comes with a full colour, fully illustrated 10-page A4 GUIDE for use.
The laptop tray, which can be opened and locked at any angle, is covered with strategically placed Velcro hook and comb strips and squares. 11 different tactile items, each with different manual challenge, have been sourced and purchased for stroke survivors to practice grasp, place and release.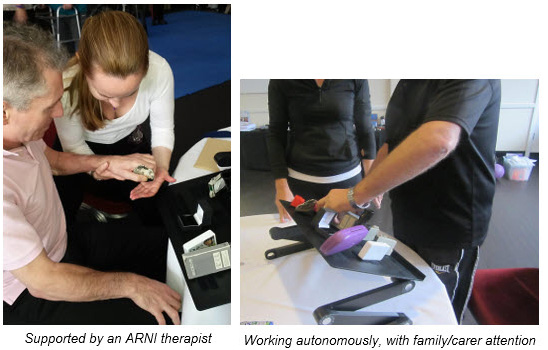 These are really great for people to try, if there is spasticity or flaccidity present – and this is the stepping stone that we have found for countless ARNI patients over the years that works to progress their hand from one phase to another. Best advice is always start off with the wooden pegs in slots. Physiotherapists have, among their many upper limb measures, a test called the '9 hole peg test'. This is an idea borrowed and scaled up from that test, with slots to enable practice. Advice is (all present in the Guide), is to start off with these, working on 'getting the gap'.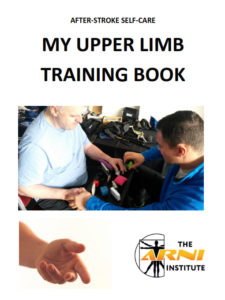 Dr Tom shows you in the Guide how to try create the temporary ability via a particular stretching sequence how to maintain a gap between thumb, index and middle finger to enable a grasp upon command. The idea is to work up to being able to go up and down the line, lifting and replacing.
When you can do this, it's time to move on to more challenging items on the board. The longest, smoothest and widest items are the most challenging. The Velcro always keep the paretic hand from knocking over items as the survivor attempts to grasp items until more fluidity/accuracy is gained. All is explained in the Guide and DVDs. You are going to like this approach; it gives SERIOUS RESULTS in terms of action control.
This is a must-have for all stroke survivors with upper limb limitations.
Sourcing the varying of thickness and adhesiveness of very high-strength Velcro, the cost of the lockable laptop board itself, combined with the cost of the items adds up surprisingly. We have done all this and put the time in to create and offer you this at the very best possible price to cover outlay.
Get yours here to help yourself or your loved one with ARNI style upper-limb training… and get a fully-illustrated colour 10 page accompanying Guide with it!
Go to the Products page to get the Task-Board.
IMPORTANT – Instructors and survivors will also be using this board together for forthcoming upper-limb telerehab sessions.