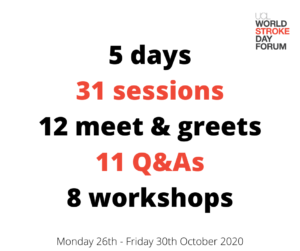 The UCL World Stroke Day Forum is a FREE annual event (26th to 30th October) which invites stroke survivors, carers and loved ones to contribute to and influence the future of stroke research and rehabilitation.
This year, the Forum will be entirely digital (Zoom-based) in response to the COVID-19 pandemic.
VISIT THE UK WORLD STROKE DAY FORUM SITE TO FIND OUT ABOUT THE EVENT ASAP AND BOOK YOUR PLACE.
There will be Live Q&As and workshops with UCL researchers and charity partners, and 'meet and greets', where you can informally chat to all contributors. You can also watch pre-recorded talks to hear the latest about stroke research and rehabilitation.
The event takes place over a whole week: it's going to be superb!
The Zoom-based Forum aims to empower stroke survivors to contribute to stroke research and rehabilitation at UCL. It will host over 30 live events including Q&As, workshops and informal meet & greets with leading researchers, clinicians and charities.
Tom Balchin from ARNI will be speaking on Monday 26th and Wednesday 28th October about:
Please sign up asap – limited tickets now.