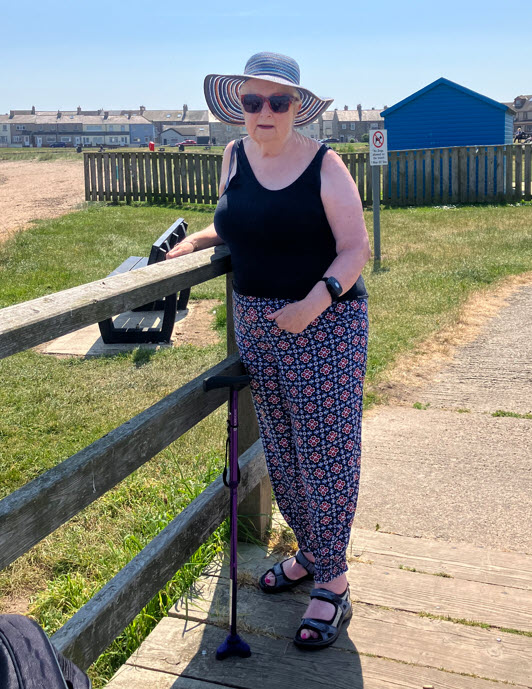 It is now 13th June 2023. I had a stroke 5 years ago, I thought I would be better now. Walking. After spending 10 was in hospital, I had an NHS physio work with me once a week. I foolishly believed that I would work with the Physio until I was better. But no, you get Physio until your allotted hours are up and then it stops. I found a Neuro Physio who was good but very expensive, she believed in me, more importantly got me to believe in myself. I had contacted ARNI when I first had my stroke, but there was no ARNI Instructor in my area. They said they would work on getting an ARNI Instructor in my area to help me. Then out of the blue, few weeks ago, I was told an ARNI Instructor had moved to Seaham, just down the coast from me. So Maria came to see me and immediately started working on my much-neglected left hand and arm, as well continuing to strengthen my legs.
My goal on the 3rd July the anniversary of my stroke, was to walk on the beach and swim in the sea. I've Brought. a new swimming costume. 'We will work towards this ,and if its nice next week we will go down to the harbour by the beach and get you walking outside. ' said Maria. My mobility scooter terrifies me but is key to my independence. I got out of the scooter unassisted and held onto the rail, looking out at the sea then took a few steps back to the scooter. Wow! As we made our way home, I realised what I had done, I stopped the scooter and hugged Maria, 'Thankyou' I said through tears.
Thankyou Maria for pushing me that bit further. Thankyou Maria for helping me start to recover.
Thankyou Maria for believing in me. Thankyou Maria for giving me homework!
Thankyou Maria for listening to me. Thankyou.
Pic shows Christine walking outside for the first time since her stroke.. with ARNI Instructor, Maria at Amble Harbour.