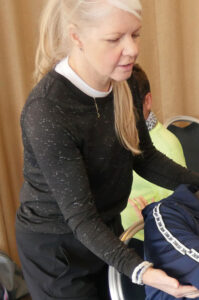 At the beginning of 2017 I had a stroke which left me with little movement on my left side but fortunately no pain. After a few months in Chelsea and Westminster Hospital and Charing Cross Hospital where I learned to walk short distances, I was discharged "into the community". Unfortunately, the allocation of the promised physiotherapy and occupational therapy took some time. Feeling frustrated my husband contacted ARNI for assistance. Thus. I was introduced to Denise.
Now several years later, Denise continues to help me to lead a fuller life. This includes getting me mobile again after a serious fall which resulted in my having a partial left hip replacement.
In speaking of Denise to my friends the adjectives I use are of the nature of "wonderful", "fantastic" and "amazing". She is one of the most supportive and gently persuasive people I know. She has the ability to assess within a couple of minutes what approach would produce the optimum result for her clients on that particular day and is prepared to change her session plans accordingly.
As you will know she has a panoply of skills and qualifications at her clients' disposal. She has changed my diet, lent me her own equipment, and is always avid to learn in order to help others to improve and achieve. So often I have told her that I cannot possibly do something only to find an hour later time that I am doing it with relative facility. Most importantly she has shown me that it is imagination and determination which effect improvement rather than expensive equipment.
She is also an excellent teacher and has enabled my husband to help me constructively. I am 78 years old but she will not allow me to use that fact as an excuse or a crutch. I am simply a work in progress with constantly extending goals. If I say that I cannot do something she responds, "Yet."
Above all sessions spent with Denise are fun. She may leave me tired and muscle aching, but with enhanced skills and enthusiasms and a sense of well-being. I would have no hesitation in recommending ARNI, and Denise in particular, to anyone.