I am a retired special school teacher who was born in 1948. I have always been active and independent. On 25th July 2014 I was staying at the family cottage in Suffolk. I went for a run along the beach, returning against a head wind and rather out of breath. I decided to prepare a snack for my husband so that I could take it to him on his allotment. I noticed that I had a migraine-like headache which was quite strong. I tried to speak and calm myself down, but my speech sounded strange and slurred. I spoke again to reassure myself, and I sounded normal this time.
So I left the house to re-join my husband. It was a hot day and I could not walk straight and started to stagger, but I reached the town's surgery where I received immediate care, however, what was a TIA developed rapidly that same evening into a major stroke. I spent six weeks in hospital before being transferred to the Albany Rehabilitation Unit at the National Hospital, Queen's Square, where I learned to walk again. I remained there until November 2014.
On discharge from hospital my left leg and left arm remained seriously affected and I was allowed a district physiotherapist for 4 weeks whom I liked very much and found extremely helpful. When I was discharged by the Re-enablement team, we engaged a private physio who was very nice, but also very expensive. By this time I was taking pills to prevent seizures which were a side effect of my stroke and these pills (since changed) had unpleasant side effects and this seemed to make it very difficult to work even on a one to one basis.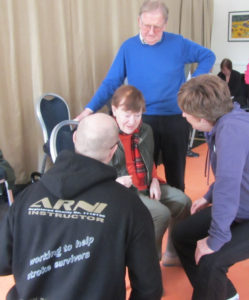 My husband found out about ARNI from reading the Successful Stroke Survivor book and the informative website and he suggested we approach it and ask for an Instructor. I feel I've never looked back, although the hip was an interruption. I now have someone who comes punctually once a week, arriving with a smile on his face and an invitation to go for a conducted walk around the corner. We then return home and he spends some time helping me to move my still extremely affected left hand and arm and working on the parallel bars I have in the house. After having stayed longer than he knows is the allotted time, he leaves with a promise to return next week, and a goal or target for me to be working on in the meantime.
One very important and helpful thing about my ARNI instructor is that he understands. He knows what it's like to suffer a stroke and to come back from that. He makes me feel positive about myself and most importantly he makes me laugh. I am beginning to be more confident again after my broken hip.
We find paying over the phone simple, and it helps that we don't have to talk money with my ARNI Trainer. Thank you ARNI.