Are you a stroke survivor who is struggling to sleep? If so, you are not alone.
Research has found that sleep problems are much more common for stroke survivors, compared to in the general population. This is an issue because sleep is so important for many reasons. A lack of sleep can have a negative impact on our mood, reduce our alertness and concentration and can even affect our learning of things, including motor skills.

Researchers led by Professor Heidi Johansen-Berg, together with the Oxford Centre for Enablement and the Oxfordshire Stroke Rehabilitation unit, looked at sleep quality in 59 brain injury and stroke patients in rehabilitation units. They found that those who had a better sleep quality saw greater improvements throughout their rehabilitation. Patients with better sleep showed less overall movement impairment in their affected arm and legs and were more mobile when they were discharged from hospital.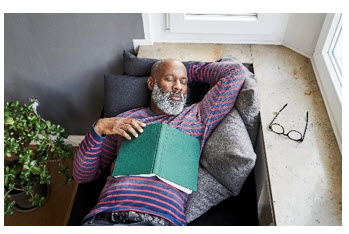 Professor Johansen-Berg and Dr Fleming have expanded this study, assessing stroke survivors in the community.
In total, 70 stroke survivors and 76 people who hadn't had a stroke took part, by answering questions about their sleep and wearing an activity monitor at home. Some had experienced stroke fairly recently (within the past year), whereas others had their stroke many years prior to taking part in the study.
Similar to what they found for people in hospital, stroke survivors rated their sleep as significantly worse than people who hadn't had a stroke, and spent more time awake overnight.

This did not seem to relate to how long it was since the stroke occurred, leading researchers to conclude that sleep problems can persist long term after a stroke. People who reported difficulty sleeping were also more likely to have low mood, such as symptoms of depression.
Using this information about how important sleep is in the recovery of stroke survivors, the researchers are now hoping to find ways of improving sleep for stroke survivors, both in hospital and later when they are home.
This is why they are currently running the INSPIRES study (Improving Sleep in Rehabilitation after Stroke), which is a study looking at a sleep-improvement programme for stroke survivors in their homes. If you are a stroke survivor who wants to improve their sleep, take a look at the information from the Team below!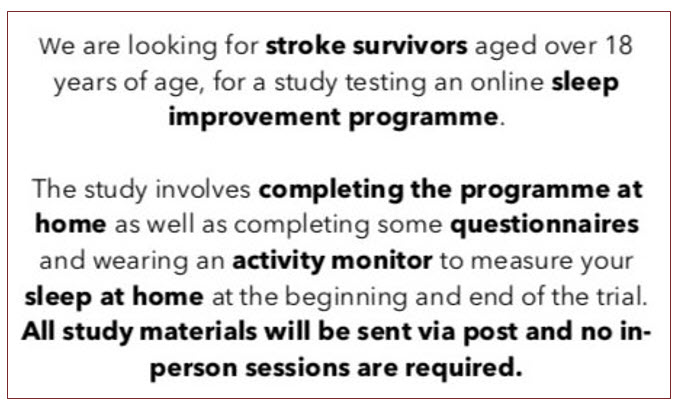 Some wonderful ARNI members have already taken part in the study, and so far the study has over 50 people participating. If you would like to improve your sleep and help with some research that aims to positively impact the lives of stroke survivors in the future, please do get in touch with the Team: