It is fair to say that I was feeling a little apprehensive prior to my visit to see Tom in Surrey. While the health professionals around me were all very positive about the progress I had made, I was worried that I may not have been ready for the challenges and intense nature of a whole day of physio with Tom. Also, I had invested a great deal of hope in my time with Tom Balchin. Some aspects of my physical rehabilitation were not where I had hope they would be 8 months after my stroke: despite excellent physio support at my local hospital, I was still finding getting on and off of the floor from a chair very difficult and was still not really attempting this while alone at home; and I had enjoyed very few flickers of movement from my affected arm or hand (left for me).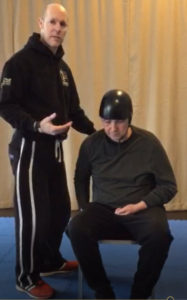 Perhaps my biggest concern was the fact that at the time of my trip to Surrey to work with Tom, I was still protecting the hole in the front right side of my skull by wearing a helmet whenever undertaking any activity that involves moving around. While I knew that my time learning ARNI techniques and knowledge with Tom Balchin was not going to be a 'miracle cure', my expectations were very high and all of these factors combined to ensure that I was nervous about the day and determined to learn as much as possible to aid my recovery. Tom was extremely expert, and kind, at helping to overcome these fears: Firstly with his excellent email communication in the days leading up to my trip; Secondly, with his unerringly professional and listening approach on the day. I was reassured before driving down from Scotland that he was used to working with stroke survivors with a missing bone-flap and that all activities and challenges would be appropriate to this fact and my own stage of recovery.
I was also reassured by the fact that Tom had enlisted the support of two other experienced ARNI therapy practitioners, Gail and Scotty (Gail being an acute stroke physio) – knowing that I was working with a team of three helped as it was more like the physio experience I was used to and it was clear that Tom's communication with Scotty and Gail about my stage of recovery, medication, needs and situation was typically excellent.
The day was due to start at 10:30 am and, despite arriving early, it was clear that efforts had been made to prepare thoroughly for my visit. The journey from the hotel to Tom's gym in the Sports Bar was straightforward enough. Wanting to preserve as much energy as possible for the day, I elected to use my wheelchair from the hotel which was simple because of good lifts in the hotel and suitable ramps between the main entrance and the Sports Studio where Tom and his team were waiting. Our welcome was warm and positive from the outset. We began with a full and detailed conversation about my stage of recovery, hopes for the day, concerns as well as an opportunity for me to ask questions. While my recovery has not been characterised by having high blood pressure, I had made Tom aware via email that my GP was about to start me on an Ace inhibitor medication to reduce my blood pressure a little. Tom was well prepared for this – he had brought a blood pressure monitoring kit to take my blood pressure at three points throughout the day to ensure my wellbeing and ability to undertake the day's training. However, the team ended up checking my blood pressure at nine points during the day and recorded the readings for my GP.
Any fears that I had that I was going to be pushed too far beyond my ability were allayed by the team's professionalism and clear care for me. The majority of the first few hours of the day were focussed on upper limb work which was welcome, particularly as there was access to a wider range of bespoke equipment than I had previously had access to during physio sessions at my local hospital. This helped to boost my confidence as I was quickly achieving more with my left hand than at any time previously in the 8 months since my stroke. The importance of stretching, repetition and persistence were reinforced and recommendations were made for purchasing some equipment once home again.
After this long and enjoyable session on upper limb work was over, it was time to check in with my blood pressure. Unfortunately, the reading was considerably higher than expected or than I had seen since my stroke. We had to have a discussion about whether it was appropriate to continue the session. Tom made contact with my GP and, after a careful and inclusive discussion around my health and the wisdom of continuing the treatment we decided together to proceed. I felt well and was determined that my journey from Scotland was not going to end without attempting to get as much as possible from the day. Of course, the anxiety of worrying that the day was going to come to a premature end did nothing to lower my blood pressure. However, the whole situation was treated with characteristic professionalism and compassion – it was the right decision to continue and much of the afternoon session 'on the mat' was the most useful time of the day. Before moving to floor work, we enjoyed a tasty, healthy and well-prepared lunch of sandwiches, crisps and drinks. Conversation was relaxed and fun but always related back to my recovery and mixed with sound advice and positivity.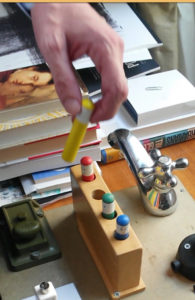 After lunch we spent some time analysing my walking gait and challenging me to walk without my stick while keeping my head up. This was absolutely appropriate to the stage that I was at and I found that Tom's understanding of my limitations, combined with his expert advice on how to improve, soon had me walking with more confidence than at any time prior to my visit. We soon progressed to teaching me a new technique of getting from a chair to the floor and back up again. This was a real confidence boost and something I have been able to take home, making me safer at home and better able to attempt a more ambitious training programme. Thus emboldened, we returned to more ambitious upper limb work with equipment and techniques that untapped movement in my left arm and shoulder that had to that date been completely absent.
Tom had mentioned that we may have time to attempt getting on the floor and up again without the use of a chair as an aid and, while I was nervous about this, I was determined not to end the day without attempting it. We returned to the mats and Tom demonstrated the technique I was aiming for and guided me through the stages. Unfortunately, I was unable to succeed with the technique but I'm determined to achieve this next. That said, the team were great and were keen to focus on my many successes rather than one failure and I left knowing that I had achieved more than I thought I was capable of before the day. The end of the session was slightly rushed as we ran right over time meaning there was not time for a detailed plenary but Tom, determined as ever to ensure I get the very best experience possible, suggested meeting the following day to further discuss my training programme and offer his advice. I was very tired at the end of what had been a long day. The facilities at the Lingfield Marriott were perfect for unwinding and refuelling. The room was very accessible and the staff, extremely friendly attentive to my needs. We enjoyed a lovely meal in the bar area in the evening.
I met again with Tom the next morning and again I was impressed by the amount of thought he had given to my particular needs and he offered excellent advice on how he thought I should progress my training on my return to Scotland. After one last blood pressure check with Tom, I left Surrey feeling very positive about the future and with a much clearer idea of what I should be doing to maximise my recovery; I have also been very grateful for the ongoing support and guidance via email and I feel I am able to drop Tom a line any time I have a question. There was no miracle cure after my visit to work with Tom but it was never going to be that. I am very pleased that I took time to engage with Tom's training and was pleased too that all of his advice was complimentary to the advice I have been receiving from the physiotherapists in charge of my care in Scotland. If you are a stroke survivor given the opportunity to work with Tom, I urge you to go for it as his expertise, positivity and professionalism can only take you further down the road of your recovery.
Campbell Wilson. March 2018