25 October 2017. I arri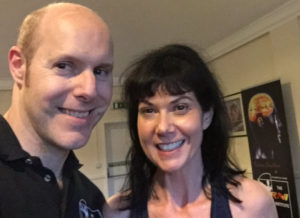 ved at the Marriott Lingfield in good time. Saw immediately the side building to the right of the hotel where the training is run. Had some free time so had a coffee in the hotel bar. At 1050 I wandered over to the building. Sure enough Tom was there. He puts you at ease immediately and we discussed my Stoke which occurred in February of this year, the Auto-Immune illness which caused the Stroke, and my list of medications. Tom had taken time to look up any that he wasn't familiar with.
We were joined by ARNI trainer Jo, who is a personal trainer. I thought this was a good match-up, as I had told Tom how much I used the gym pre-stroke, and how I still do now.
We made a start on the large matted area at the front of the room. Tom didn't waste time once he saw that I was past my problems of getting down onto, and off the floor. It was clear that he was going to tailor-make it especially for me. After diagnosing my gait control and giving me a great solution to completely counteract my foot swinging out to the side when I walk, the two of them started gently perturbing my balance – in order to see how I performed when unstable. It felt so weird because all balance work I have ever done with Physios (post Stroke) involves non-contact stationary exercises – standing on one leg with the eyes closed. Then we went out onto the grass and they got me to run! But I can't run I said, they said we're going to try – Jo ran along side me for safety holding my arm. It was the best feeling – I was running – not at all gracefully and not in any way like I used to but indeed I was running.
Lunch was sandwiches courtesy of Tom's wife and Jo showcased some of her healthy food. The topics flowed easily – how we have to eat healthily post stroke, taking time to evaluate life after stroke. Stress and stroke.
The second half of the day was spent on Task Related Training and specific stretches to achieve the tasks. I never knew that there were stretches to help you a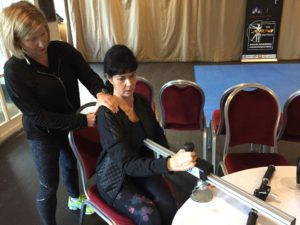 chieve tasks! Tom showed me some best ways to grab objects, and we need to grab them many many times. This was a major part of the day – reaching and grasping objects of varying shapes and sizes – you really do have to do many, many repetitions in order to improve. This is in line with current research – Repetitive Task Related Training, done yourself, with even the stretches done yourself. We also used an amazing piece of kit which helps with arm extension that was bolted to the table which I might buy for use at home.
And now we were down to the last hour. I was exhausted, and when Tom passed me a 5kg double-handled medicine ball my initial thought was I can't lift that much, I used to lift 5kg pre-stroke but not now. But I bit my tongue, this because I've read in the book the importance of strength and power training after stroke…and before I knew it I was lifting it for lots of repetitions – albeit my good arm was doing most it my bad arm was actively involved also.
And then I bid them farewell – with a promise from Tom that he was put a training programme on paper for me and list all the products and tools which I had found useful over the day. One of my biggest problems has been transferring exercises and techniques which I have found useful into my home, to use on a daily basis.
I headed to the bar in the Marriott again – I was so exhausted and needed time for everything to sink in. Tom works only on the latest research and it is all task-related.