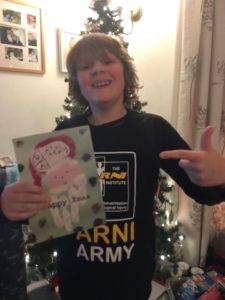 Forgive us mentioning Christmas cards in November! But if you do send cards this year, do think about getting some of these?
100% of your money will go back to ARNI Charity to help support survivors and families to deal with the aftermath of stroke and other acquired brain injuries.
The card itself was created by one of our survivors, Alex, who came to us aged 8. He is now 13. He used the training he had done over these many years to conquer/manage the effects of spasticity in his hand – and created this superb and meaningful image on the card!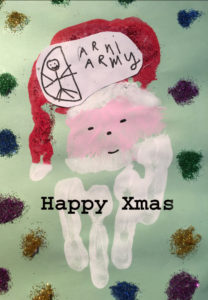 He was able to fully open his more-affected hand, keep it open without assistance, paint on it and lay it flat without assistance, on a piece of paper – then sprinkle glitter and so on. It sounds easy to those without upper limb spasticity (one of his limitations), but it was the result of years of training, goals, micro-achievements etc.
There is a few lines of explanation on the back of the card for your recipients…
Card is SUPERB quality thickness and A5 size.
Limited stock available… do have a look!
Press here GET MY CARD SET!